Go to sleep, Pali!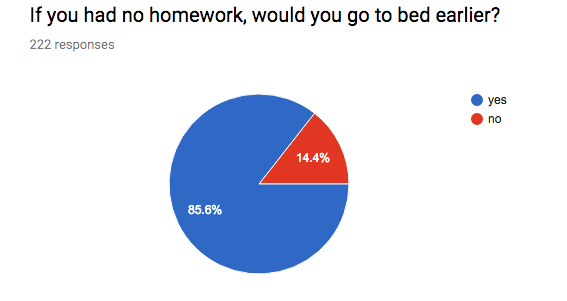 Josephine Chae, Staff Writer
October 23, 2018
Hang on for a minute...we're trying to find some more stories you might like.
"Beep, beep, beep." The painfully familiar blaring of my alarm at 5:50 a.m. I snooze again and again until 6:05 a.m., when my dad comes into the room to wake me up. I stumble into the bathroom, promising myself that I'll go to sleep earlier, knowing very well that I won't.
After many hours of school and swim practice, I finally start my homework. Four hours later, I'm done with everything I have to do. Sixteen hours after first waking up, I crawl into my warm bed dead tired and close my eyes.
This vicious cycle of going to bed late and waking up early plagues a great deal of high school students. Although some may blame teenagers, whom they believe stay up all night to watch YouTube and to text, widespread sleep deprivation among high schoolers is not the fault of the student. It's the product of countless hours of homework and schools that ring their bells before sunrise.
Californian students were given hope when a bill was introduced stating that schools could not start earlier than 8:30 a.m. Their dreams were dashed, however, when Governor Jerry Brown vetoed the bill. Attempting to justify the veto, Brown told the Los Angeles Times that "several schools have already moved to later start times and others prefer beginning the school day earlier."
Given that Californian students lost this battle, another solution to their sleep crisis would be less homework. Many students are out of the house for hours, and once they get home, they are met with an unmanageable workload. Participating in activities on and off campus, freshman Sasha Schoettler explained that "with all [her] extracurriculars and the homework added on top of that, it's really hard to get to bed earlier."
One of the ways to enable students to shut their eyes earlier is to have teachers slash the kids' workloads. Respected educational author and lecturer Alfie Kohn wrote on his website that "the research supporting homework hasn't been particularly persuasive. There does seem to be a correlation between homework and standardized test scores, but it isn't strong, meaning that homework doesn't explain much of the variance in scores." Kohn adds that there is no relationship between the time spent on homework and final course grades. So, according to Kohn, all the stress that homework causes is, for the most part, unnecessary.
Though teachers in the United States tend to give more work than those in other countries, U.S. students don't actually perform better on tests. The Programme for International Student Assessment (PISA), a large cross-national test, placed the U.S. 38th out of 71 countries in math, and 24th in science. Not very impressive considering the boat-load of homework that U.S. teenagers struggle to complete every day.
Meanwhile, Finland gives 10-to-11-week summer holidays and almost no homework, and their students placed fourth on the PISA. A study done by the Organisation for Economic Cooperation and Development (OECD) found that 15-year-olds from Finland complete a total of 2.8 hours of homework each week whereas U.S. 15-year-olds spend about 6.1 hours. Finnish students generally do well on tests without drowning in homework. Americans stay up late, only to fall short on the same tests.
A majority of Pali students responding to a Tideline survey reported getting six hours of sleep per night, compared to the National Sleep Foundation recommendation of eight-to-ten hours. "Since I [usually] have three hours of work, I'd say I get five hours of sleep or just under," freshman Josh Frankel commented. He added, "I usually go to bed at like 1 a.m. on a regular [school] night because I have other commitments on top of my workload." Despite the countless benefits of a full night's sleep, many Pali students continue to be sleep deprived. Imagine how happy students, and teachers, would be if they got nine hours of sleep every night. Sadly, this is made impossible by the unreasonable amount of homework given to our suffering, blurry-eyed students.