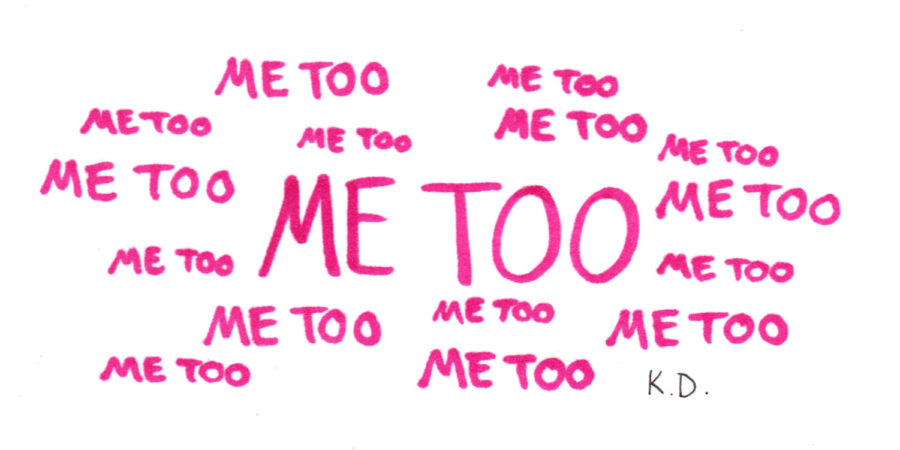 Last year, the red carpets of Hollywood saw a change: a sea of stars, clad in black, Time's Up pins fastened to their lapels, treating the word solidarity as a solution. This year, Hollywood continued with its empty promises of change, awarding accused sexual abusers, pedophiles, and rapists with Golden Globes, Oscars and Emmys. Brave victims who risked their careers, surrendering their privacy, have been dishonored. The efforts of thousands of women and men have been disregarded. Countless articles have been written, thousands of perspectives brought forth, yet we do not see change. We see complacency.
By continuing to write about the issue of sexual assault, we refuse to let it fade from relevancy. It is the job of those of us who want change to keep demanding it, to continue even if the public is bored of this conversation and to call out those who stand idly by. We may be banging the nail over the head, but there's a reason we will not — and cannot — remain silent. This story may be overdone, but we owe it to the victims not to let their courageous testimonies to be rendered moot. If this article changes one mind, then there is power in continuing to write.
If you never want to see another #MeToo article again, then do your part. If you feel that you've read this article too many times before, good. The reason sexual harassment and assault has continued unchecked for so long is the ignorance and unwillingness of people to change. There are many, many directors, actors, writers, rappers and singers who are not abusive and who make brilliant art. It is possible to listen to artists who haven't sexually assaulted anyone. If you support the #MeToo movement, do research before investing your money and time in an album, a film or an artist. Don't let abusers make $800 million at the box office.
To clarify, the president of the Hollywood Foreign Press Association came out wearing a Time's Up pin shortly before giving Bryan Singer's film Bohemian Rhapsody Best Motion Picture. Singer has been accused of molesting boys as young as 14 while on set, along with many other sexual abuse allegations. He may have been fired in the middle of filming Bohemian Rhapsody — for showing up late, rather than molesting boys — he still gets directoral credit. Singer stands to make $40 million off the film, and studios have already announced plans to work with Singer again. "I continue to be in development for Red Sonja and Bryan Singer continues to be attached," said Avi Lerner, CEO of Millennium Films. "In America people are innocent until proven otherwise." Lerner, who had his own share of allegations come out in 2017, has produced the likes of Homefront and The Expendables. His support of Singer continues the long-standing Hollywood tradition of entertainment over ethics.
Singer wasn't the only person with allegations to be awarded at the Golden Globes. Michael Douglas, who won Best Performance by an Actor in a Television Series Musical or Comedy, has been accused of sexual harassment by journalist Susan Brandy. Peter Farrelly, the director of Best Picture (Musical or Comedy) winner Green Book, allegedly exposed his genitals to actress Cameron Diaz and producer Tim Rothman. The Academy Awards nominated both Bohemian Rhapsody and Green Book on Jan. 25, and will likely honor them both.
But what might be most alarming is that Hollywood has treated the #MeToo movement like a passing trend, even as they promise change in the face of media backlash. When prominent newspapers like The New York Times and The Washington Post wrote about abusers in Hollywood, people in power paid attention. When newspapers lay an issue to rest, the public is quick to forget. If we do not hold Hollywood accountable, then we are making the conscious decision to dismiss the #MeToo movement.
As a society, we claim to value morality. We claim that rape, molestation, and sexual assault are wrong. We claim that we want women to feel safe in the workplace. We claim we do not want abusers in power. But when it comes to our own entertainment, it all seems to fly out of the window. What does it matter if their art is beautiful or life-changing? Rape, molestation and sexual assault are life-changing, too.