Mr. Wilkinson's Contract and Walkout
Students staged a walkout during sixth period on April 3 to protest the administration's decision not to renew the contract of Todd Wilkinson, an English teacher in his second year at Pali.
Wilkinson, who teaches AP™ English Literature and Honors Contemporary Composition, was not invited to return to Pali next year due to a student complaint, according to public records from a special Board of Trustees meeting that was hurriedly called for March 8, just days before Wilkinson would have gotten permanent status.
Senior Ryan Loyola, one of Wilkinson's students, created a petition on the site Change.org in order to persuade the administration to keep Wilkinson on contract for the 2019-20 school year. During the walkout, Loyola told students that the administration's decision was unjust, adding that Wilkinson's character and classroom performance should be the determining factors in deciding whether or not to grant him permanent status. Under the current United Teachers Los Angeles (UTLA) contract, Pali teachers have a probationary status for their first two years at the school.  
"In addition to his cutting-edge teaching philosophies, his personality is one that allows his students to be themselves and to be creatively free in their work," Loyola said of Wilkinson.  
Loyola's petition had more than 800 signatures by April 5, showing how well-regarded Wilkinson is within the Pali community.
Junior Joshua Simanian, who is in Wilkinson's Honors Contemporary Composition class, says that Wilkinson deserves to stay at Pali. "He is the best teacher that I have ever had," Simanian said. "He connects to his students in a funny way, which inspires the class to work hard and actually care."
Wilkinson's future employment at Pali was put into jeopardy after administration investigated a student complaint, according to public statements made at the March 8 and 19 Board of Trustees meetings.
According to a student who asked for anonymity, the administration began to investigate Wilkinson after a student filed a complaint. The incident in question involved Wilkinson touching the shoulder of a student who put their head down during class, the source said.
During the Board of Trustees meeting on March 19, a handful of Pali staff members urged the administration to retain Wilkinson. English Teacher Shirin Ramzi defended Wilkinson by saying that he "is one of the good ones who should not be a casualty of a bureaucratic process." Other staff members also praised Wilkinson's teaching style and values.
During the first 20 minutes of the March 19 Board meeting, students spoke on behalf of Wilkinson. Senior Deven Radfar, another one of Wilkinson's students, was greatly involved in defending his teacher.
"This would be such a loss to this campus. Having Todd Wilkinson on this campus is worth it," Radfar told board members.
Wilkinson was unable to comment on the matter. Dr. Magee was unable to answer questions about the specifics of this matter, citing confidentiality.
About the Writer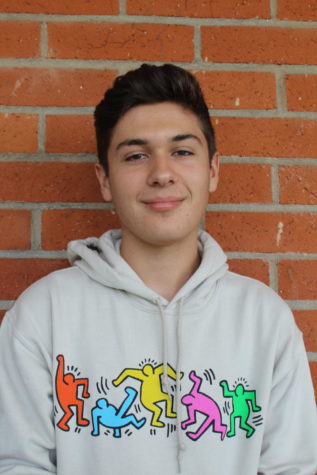 Tommy Berman, Copy Editor
Tommy Berman joined the Tideline as a news writer during his junior year. Tommy is interested in politics, history, and world events. As a senior Tommy...