Pali's Student Unions Work to Preserve Cultural Identities
A melting pot, a land of opportunity and a land of the free are all terms used to describe the United States of America. It earned these names for its diverse population and extensive civil rights. Pali, with 46 percent of the student body composed of racial minority students, is especially representative of the country's diversity. However, dominant, mainstream America seems to have subconsciously, or even sometimes explicitly, encouraged assimilation, urging members of ethnic minority groups to abandon many cultural traditions. The United States sees itself as a melting pot of global culture and individual identity, but the ingredients may be losing their signature flavors.
At Pali, clubs are striving to foster an environment in which ethnic cultures can be fully expressed. Junior and Persian Student Union co-president Robin Zargar said he believed Persians inside and outside of Pali are doing a decent job at preserving their heritage. According to Zargar, "[Persians at Pali] are mixing American culture with their Persian family culture." Sophomore Ethan Shamoeil, Zargar's co-president in Persian Student Union, thinks Persians are active in preserving their culture. "[Persians] are always talking in Farsi as if it is their secret language and will gladly explain their traditions to non-Persians," Shamoeil said. "Persians are proud of their culture and love to talk about it." He added that in elementary school, he and his Persian friends would give presentations in class explaining how they celebrated Persian New Year, or Nowruz.
Shamoeil recalls Nowruz traditions, such as the egg painting, jumping over the fire, setting up the haftsin table [and] explaining the different symbolic purposes of the things on the haftsin table to his friends. Shamoeil explained, "I didn't do it because my parents made me; I did it because I felt a genuine connection to the culture." According to Shamoeil, "our ancestors have celebrated Nowruz since ancient times, and I think it is fun and meaningful to pass down the culture to future generations."
However, Shamoeil's perspective is not the general consensus among other Persian students at Pali. Sophomore Jonathan Lalehpour says that Persians are assimilating well in America, but are starting to forget their true cultural identity. "My dad wanted me to learn Farsi, but he didn't want me to know it fluently. He told me later that this was because he didn't want me to have a strong Middle Eastern accent, so it would be easier to fit in with my non-Persian peers," Lalehpour noted. "Now, I don't know Farsi well enough to teach my children, and that's pretty sad, because I think it's a great way to communicate with other Persians."
Lalehpour added that Persians at Pali are subtly adopting the culture of other ethnic groups. "Personally, [I think] white and African-American culture have played more of a part in the values of Persians than the values our parents instilled into us," Lalehpour stated. "That's not to say that we forgot about… [our cultural values], but there has been a large shift in the way Persians speak and act because of their interaction with other races."
Lalehpour said he will make sure that he teaches his future kids Farsi, takes them to Persian restaurants and educates them about traditional Persian holidays. "Sure, we live in a highly progressive city filled with hundreds of cultures and languages, but that doesn't mean we should throw away the traditions that our parents kept in their home countries," he said. "If I forget them today, then that will be one family of Persians who eventually won't even identify as Persian."
In contrast, Pali's Black Student Union president, senior Kamari Parham-Ivra, says that to some extent, the acceptance of the African-American culture is threatened by misrepresentation. She emphasized African-American unity at Pali, stating, "For me, it's not embarrassing to practice my culture, because I am surrounded by supportive people who go through the same things I do. Others, however, might think it is embarrassing because their culture isn't represented."
Asian Student Union (ASU) president Sarah Kageyama, a junior, says that her club provides a safe space for its members to interact and feel a sense of togetherness with others of the same ethnicity, even if their backgrounds weren't identical. Kageyama said: "There are many different types of Asians that come to ASU. They can meet Asians from other countries and learn about their culture. We provide a safe space to express cultural traditions."
In comparison, Latino Student Union president, senior Erwin Barillas, says that Latino students at Pali differ from their parents because many were born in the United States and were more easily able to embrace established American norms. "The fading away of Latino culture is happening," according to Barillas. "However, it can easily change if parents enforce Latino education in homes, so [our generation] can be proud of who they are and where they came from. Spanish is, for sure, a key and important part of the Latino culture."
Both Kageyama and Barillas are united in their opinion of how minorities can coexist with Pali's white majority. Kageyama said, "We need to be open-minded and embrace other cultures instead of looking at them weird." Similarly, Barillas believes the school should embrace minority culture as well but said that non-Latinos should "participate in Latino culture, and not just the food, but everything else we have to offer."
However, Parham-Ivra says that Pali should make systematic changes. "What we teach in schools affects students here, and I think we should learn about every culture in classes," she stated. "Instead of having alternative classes such as African-American history, which is filled with African-Americans, those kinds of things should be taught in main history courses." In fact, growing demand for ethnic studies has been brought to the attention of the California government. Recently, a bill was proposed to make ethnic studies a high school graduation requirement, and after delays, backlash and major criticism, it is currently sitting on California Governor Gavin Newsom's desk.
All in all, Pali's significant diversity adds to the feeling of inclusivity for minorities. This is increasingly evident with the six student unions Pali houses. That's not to say minorities and immigrants shouldn't do their part to preserve cultures that have been around for hundreds or even thousands of years. There are recipes to be learned, languages to be picked up, stories of home countries to be remembered and ancestral artifacts to be gifted, and Pali club presidents believe that it would be tragic for these traditions to simply fade away.
Many are familiar with the American saying "diversity is our strength," and according to Pali's student union leaders, that holds true today. Economically, politically and culturally, immigrants have made a remarkable impact on our country. As Barillas stated, "It will help greatly if we all can embrace cultures, and make ethnic people feel proud to practice their culture and share what they have to offer."
About the Writer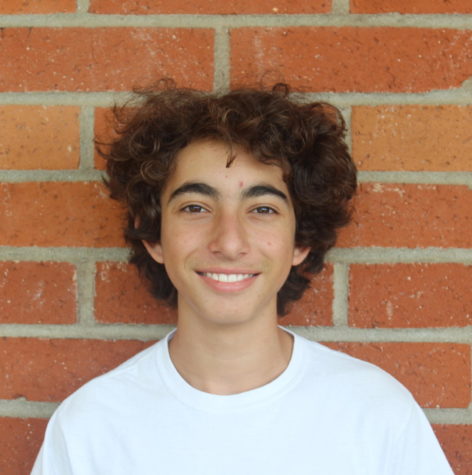 Aaron Sabeti, Staff Writer
Aaron spends much of his time enjoying and absorbing any sort of information about music, history, fashion, and movies, and is also happily married to...