School Chromebooks: Are they All That Bad?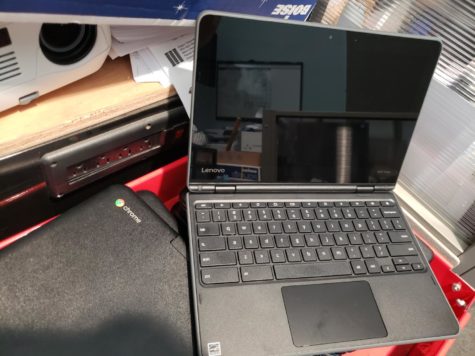 At the beginning of the school year, Pali students were given the opportunity to borrow a Chromebook from the school. In order to be issued the devices, they had to get a permission slip signed by their parents and wait in an excessively long line outside of the Tech Office. But were these laptops worth the wait?
Not if you were expecting much from them.
Paul Revere Middle School's iPads were part of an LAUSD-wide effort to give all students access to technology. However, it had significant drawbacks for Revere students. The highly restrictive apps and website catalogs, slow loading speeds, and bulky case were just a few of the annoyances that occurred when students used a school-issued iPad.
Like the iPads, "Chromebooks have restricted websites and [students] cannot download other apps besides Google and everything that comes with it," freshman Soren Apple said. Apple is underestimating the restrictions on downloading apps, because the school bans downloading any apps at all. He also said, "[The Chromebook] is very slow [compared to other brands] and [he has] to sign in twice every time [he] turns on the Chromebook because it never logs in automatically for [him]."
Freshman Isaac Attarson says that this is because when shut down, the laptops automatically sign out, making students go through the two-time login system whenever they want to use the Chromebook. Attarson agrees with Apple, adding that "the Chromebooks would be much better if they were not restricted by the school." The school's WiFi filters block specific websites and apps that are suspicious or inappropriate for school automatically for all devices connected to Pali WiFi, making all devices somewhat limited. But the other restrictions set on the laptops by the school, like the inconvenient sign-in mechanic, greatly hinder students' productivity and effectiveness.
In addition to these limitations set by the school, Chromebooks, as opposed to Windows or Mac laptops, have obvious drawbacks. Freshman Bernard Kim, who owns his Chromebook, says that the most significant problem about having a Chromebook is that "it only supports Google apps." Even though the laptops can download Android apps from the Google Play Store, they are still not for users who do not prefer to use Google services. And, according to Mimio Educator, a developer of education-related technology, people who just know how to use Chrome OS and G-Suite will not be prepared to go into the workforce, because the majority of businesses do not rely on only Google based services, preferring instead Microsoft Office 365.
Another issue is speed. Students say that school-issued Chromebooks are slow in executing even basic functions such as working on spreadsheets and or retrieving and saving files. Also, as explained in GuidingTech, "Chromebooks rely on your internet speed and if it's slow and unreliable, it messes with your Chromebook." This means students who do not have adequate internet connection at home will have a hard time completing their assignments on their school Chromebooks. Although this is a disadvantage for all computers nowadays, it defeats the entire purpose of supplying Chromebooks: to help students who do not have personal laptops complete online work.
Students also complain that Chromebooks are outdated. Although more recent designs of Chromebooks have improved features, the models from 2015 provided by Pali are far inferior to personal laptops that other students own. Senior Eddie Song explains that the Chromebooks have too little Random Access Memory (RAM) to function well. The old laptops only have 4GB of RAM and 2 to 4GB of memory. Freshman Hemosoo Woo, a self-proclaimed computer enthusiast, explained that he chose not to use a school Chromebook because he felt more comfortable bringing his own laptop for school work and didn't like the Chrome OS system. He noted that the school devices were not the best for productivity and thinks that they might have been purchased for budget reasons, not prioritizing new technological benefits. Although the Chromebooks are somewhat adequate for use, they are not optimal devices for students who wish to have a high-functioning computer.
Many students at Pali don't have access to personal laptops and seek a sufficient device. However, a Chromebook does not meet their needs. As computers advance, the school community need to take this into consideration and work toward finding solutions that really work for students.