How I Stayed Productive in Quarantine…. Or Not
In this unprecedented time, there seems to be so much pressure to be the perfect person and to use this time to be more productive. It's overwhelming.
Throughout the past couple of years, I realized that I struggle with anxiety. This is not something I share very often because anxiety feels like a reverse social taboo, meaning it's a common thing that is often taken lightly and is normalized to such a degree that the term can become meaningless in a lot of instances.
Anxiety, for me, shows itself in stressful periods where I suddenly get ultra hyper-motivated, deciding to pursue all my passions simultaneously. When these feelings arise, they usually prompt me to fill my next day with as many tasks I can fit onto one Post-it:
TOMORROW'S SCHEDULE
GO ON A FIVE-MILE RUN
DEEP CLEAN YOUR ROOM
GO VEGAN (ACTUALLY THIS TIME)
GET AN INTERNSHIP AT CITY HALL
MAKE PLANS TO MOVE TO ITALY
GET INTO COLLEGE A YEAR EARLY
WRITE AN AWARD-WINNING BOOK
After this stress-induced day, without realizing it, I slowly abandon my goals. This comedown leaves me feeling even more stressed out than before.
Being in quarantine, without my normal, structured schedule, has made these mental ups and downs that much more dramatic. And I'm along for the ride, whether I want to be or not.
After acknowledging this unhealthy pattern, I decided to change my habits to produce a more constructive cycle.
I decided I wanted to make more long-term goals, rather than the fragmented, up-and-down rotation. I would start by highlighting just two tasks I wanted to accomplish in that week: keeping my room clean and completing a daily, semi-vigorous workout.
Focusing on and achieving these two tasks everyday made me feel more secure, aware and happy — until it didn't.
Slowly but surely, I found myself lapsing back into my lazy ways. Instead of putting my clothes directly away, I would leave them on the floor for future Henry to deal with. And shirt by shirt, my room became moderately messy again, as did my mental state.
I realize now that these mental cycles, while more pronounced at the moment, are a healthy and unavoidable part of learning about myself. I have two sides of my brain: the lazy one and the ultra-productive one. In order for me to function properly, I have to give both sides what they want. The productive side is much louder, and whenever I relax and shut down my brain, it freaks out.
When I want to give myself a break, I rewatch the absolute best season of Grey's Anatomy, season three. But when the productive side takes over I become anxious about all the work I have to complete, even though the only task at hand is watching McSteamy (he can get it, by the way). It can happen out of nowhere. Last week, I was so anxious about the national AP World History exam that I woke up thinking it would start in six minutes, when it really would start in six days. It's hard to explain, but I became so disoriented that I couldn't snap back to reality for a whole hour. It was torture.
I try to relax that side of the brain, because it makes me so hyper-motivated that all I'm set up to do is crash and burn. I just have to keep putting one foot in front of the other, and I'll be just fine.
Even if this stress-induced period of our lives were to last forever, we will always be able to adapt if we remember that we are in control. All I can do is what's right for me, and learning what's right for you is your power.
About the Writer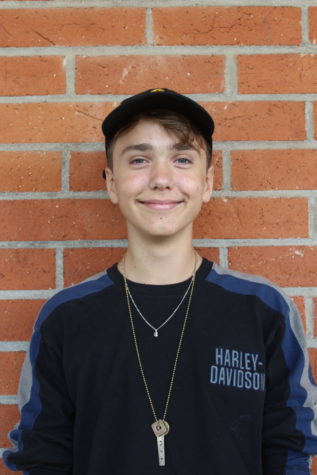 Henry Mueller, Staff Writer
Hi I'm Henry Mueller, a staff writer at Pali's one and only newspaper: Tideline. I never felt like the strongest writer (for example I really don't...