Annual Dating Game Ignites Laughter, Not Love
Pali seniors got a chance to laugh and unwind at the annual Senior Dating Game, held on Feb. 11, just three days before Valentine's Day. Pali's Associated Student Body (ASB) staged the game show inspired dating game on Zoom, which drew nearly 100 viewers. 
"It's definitely been a really stressful year, so it was an opportunity to bring everyone together," ASB president and Pali senior Izzy Gill said. "It's a tradition. Every year, we always have the Senior Dating Game. We really wanted this year to be no different, because it was the one thing that was in our control." 
The event featured five eligible bachelors and bachelorettes, who each chose a date from an anonymous panel of three contestants. Seniors nominated themselves or their friends as contestants and ASB made the final selection of who would appear on the game.
During the game, contestants entered the Zoom meeting with their cameras off and their names hidden. The bachelors and bachelorettes asked questions of their choice to each contestant. Questions ranged from "What is your ideal first date?" to "What's a social cause that you advocate for?"
"Right now, [our grade] feels really fragmented," Gill said. "We wanted it to feel like a community and get some really good laughs from everyone."
Liana Rostamian, a bachelorette, was able to laugh about the results. "I think the most embarrassing part was making the random promotional videos of myself," she said, adding, "I thought it was kind of fun, but I knew most of the people in the game just based on their voices."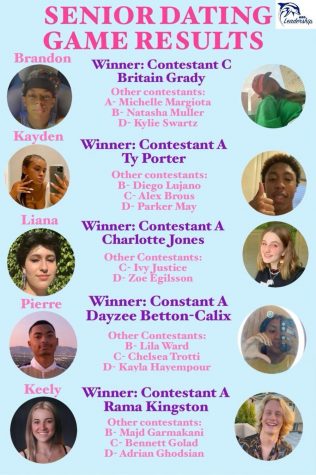 So where are the senior couples now? 
"The match didn't lead to anything, and we aren't still talking," bachelorette Keely Ford remarked. "He seems like a nice guy!"
Another bachelor, Pierre Harbin, said he didn't take the game too seriously. "Actually, I already have a girlfriend," he said. "I just did the game for fun."
Dayzee Betton-Calix, who matched with Harbin, said that "nothing went on past the game."
Regardless of the lack of romantic chemistry between the matches, ASB considered the event a success. "Everyone kind of branched out from their comfort zone," Gill said. "There were definitely some nerves, but I think that everyone who attended really had fun….
"Everyone laughed at least once, and that's really what matters."