Glasshouse Looking At The Glass Half Full After Year of COVID-19 Setbacks
Glasshouse, a local four-man alternative rock band, was on the rise last year. Five years after the group's formation, they had developed a healthy touring schedule and name recognition within the Pali community. The band graduated from its successful run as a Bar Mitzvah act harboring high hopes of entering the big leagues. Then COVID-19 hit.
"We had big plans for the summer, [then] March 13 slapped everyone in the face," lead vocalist and bassist Olórin Cheydleur said. "We were going to record a legitimate project but we had to put the band on hiatus… due to the big ol' COVID floating around."
Now, after a year of isolation and hardship, Glasshouse is back on track and ready to rock once again. They will be recording their debut EP in the coming weeks, hoping to release it later this spring.
In addition to Cheydleur, Glasshouse members include guitarist and backing vocalist Mateo Mazariego-Halpern, drummer Charlie Ziman and keyboardist Nathan Tsunoda. Ziman and Tsunoda are Pali seniors, Mazareigo-Halpern is a Pali junior and Cheydleur is a senior at Pasadena Waldorf. 
The band carved a niche for themselves in the West LA high school band scene, performing most weekends pre-pandemic. 
"What makes us noteworthy is that we'll be playing '70s classic rock guitar riffs and basslines, but mixed with Nathan's more bubbly, pop influences," Mazariego-Halpern explained. "It creates a very unique sound." 
Cheydleur added, "We have a lot of creative overlap, which is what makes it easy for us to work together." 
Glasshouse began around 2015 as a cover band, performing everything from doo-wop to 2000s indie rock. After three years of covering other artists' music at local clubs and events, Mazariego-Halpern said that "we came to the realization that we were ready to go to the next level creatively and write our own material."
As Glasshouse's popularity increased, the band began making original demos, booking gigs and performing at charity events around the city. Gearing up to record their debut album, Glasshouse entered 2020 on a high. Come March, they couldn't even practice.
During the early months of the pandemic, the four Glasshouse members were abundantly cautious about COVID-19, forcing the band into a several-month-long hiatus.
By December, Glasshouse finally reunited in the practice studio.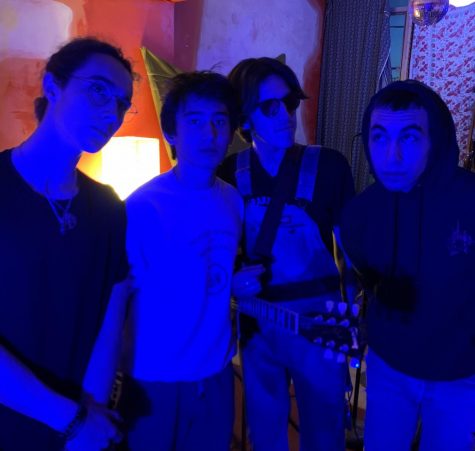 In an effort to boost fan engagement, the band began livestreaming performances on their Instagram, as well as covering some of their favorite songs from Led Zeppelin and the White Stripes. 
"It's definitely less fun doing these livestreamed gigs because you don't get to see your audience jumping up and down, having a good time like they do at parties," Tsunoda admitted. "But it's still important to us when we play these smaller performances that the passion is still there." 
Ziman said that in addition to canceling practices and performances, the pandemic also dulled the band's content.
"Quarantine has taken a toll on all of our creative processes," he said. "Without it, our lives, and, in turn, our song-writing, would be a lot more colorful."
However, as venues begin to open up and live shows begin again, Glasshouse members are looking to apply what they learned from the pandemic to their music.
"It's changed my headspace when it comes to how I approach music," Ziman said. "In a way, that's allowed me to grow as an artist."
Cheydleur feels the same. "I've become much more in touch with the band and myself," he said. "For a really long time I struggled to write anything that I didn't absolutely hate. My inner critic was ruthless. All this time alone that I've had to reflect has taught me how to make this critic shut up when it's time to, and how to appreciate my own work.
"It totally helps mentally to play with the guys," Cheydleur continued. "No matter how bad my day is and no matter what I have to go home to after band practice, during our jams I feel so much better for those brief hours."
Ziman agreed, saying: "Every time I play drums it's this incredible release of emotions… It's like therapy."
Hoping that the world will slowly return to pre-pandemic socializing, Glasshouse looks forward to the possibility of more live performances after they reach their greatest goal: to release their album. 
"If somehow COVID isn't an issue by next summer, we want to go on a tour of the West Coast, which, if booked, would definitely be worth deferring college for a year," Cheydleur said, speaking for himself and the other high school seniors in the band. "We'd be writing and playing music every single day."
Ziman agreed. He and his bandmates have learned that lost time can't be regained. 
"Now that we know what it's like to not be able to practice consistently for a while," he said, "there'll be no more wasting time in being indecisive on what and when we want to record."
Tsunoda added, "Our first live show [after the hiatus] will be electrifying."
But until Glasshouse performs live again, Ziman is plugging the band's merch.
"If anyone wants them, we have some old 2015 Glasshouse tour tees," he offered. "Get 'em while you can folks by dming @thebandglasshouse [on Instagram]."