Pali High Student Assembles Kits to Help the Homelessness
Over the past decade, homelessness has steadily risen in California, and COVID-19 has only made things worse for a community already fraught with misfortune. 
More than 161,000 homeless people reside in California, 16 percent above the 2007 figures, Gov. Gavin Newsom said earlier this month. In fact, California has one-fifth of the nation's homeless population, the World Population Review recently reported.
Los Angeles Mayor Eric Garcetti proposed plans on April 19 to combat the worsening homelessness crisis by spending approximately $1 billion to build homes, clean up encampments and distribute necessities to those in need throughout the city. 
Pali students are also doing what they can to address this issue. 
Chase Hill, a junior, started a community service project last September to aid the homeless residents in Pacific Palisades. Under the name "Chase's Care Club," he collects sleeping bags and assembles hygiene kits to donate to the Pacific Palisades Task Force on Homelessness and The People Concern, local organizations supporting the homeless population. 
Since starting his project, Hill reports he has put together more than 300 hygiene kits. Each kit includes toothbrushes, toothpaste, soap and mints, as well as COVID-19-related masks and hand sanitizer. Hill distributes the kits through liaisons with the Palisades Lutheran Church and the Pacific Palisades Presbytarian Church. 
As of now, Hill said the most needed items are sleeping bags, which can be dropped off along with other donations at the Presbyterian Church until the end of May. Donation boxes are put out every morning and collected every afternoon.
To encourage donations from the Pali community, Hill also plans to place bins at the front of the A Building from 8:30 a.m. to 4 p.m. from May 5-7.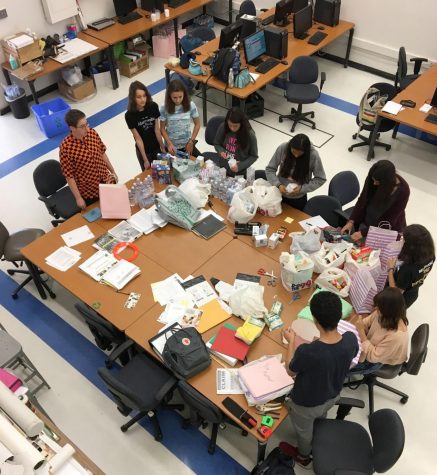 Hill started his project for science teacher Steve Engelmann's Environmental and Spatial Technology class, which gives the 21 students enrolled the opportunity to help the community or the environment. 
"It's all project-based," Engelmann said. "They can work on anything they want, as long as it's community service and legal… The structure of the class allows for kids to explore."
He continued, "They're developing problem-solving skills and helping the community, as well as figuring out what it is they care about. I'm really excited to see where they take their projects in the future."
Hill said he hopes to identify a more permanent solution to the rampant homelessness problem, but for now he is committed to doing what he can. "Everybody needs a little help, even if it is temporary," he said.