ASB Stages Events During Sexual Harassment Awareness Week
As the school year approaches an end, the Associated Student Body (ASB) has continued to create activities and spread awareness about different issues. Among these was a week dedicated to sexual harassment awareness. Students were able to participate in activities and watch videos recommended by ASB during the final week of April. 
In an effort to spread awareness, ASB planned a series of events including Denim Day, an open discussion from a survivor, a meeting on bystander intervention and a video from a survivor. 
Students in all grade levels were encouraged to attend the events. Freshman and participant Shira Berukhim explained, "I wanted to attend these events to educate myself more about sexual harassment/violence. I can also use the information I learn to spread awareness to other people." 
The inspiration behind this week is a training completed by sophomore class representative Shaya Keyvanfar. The training was completed with "Change the Talk" LA and inspired her to spread awareness about the topic. Keyvanfar said she learned about the severity of the impact sexual violence can have on an individual.
On Denim Day students were invited to individually decorate a piece of denim. According to Keyvanfar, the denim would eventually be collected and made into a denim quilt to remind people of the tragedies that have occurred and continue to occur. The Sexual Harassment and Rape Education club (S.H.A.R.E.) attended and taught students about the origins of Denim Day, an annual event organized to bring attention to the need to support sexual assault survivors and stop the practice of victim blaming. 
One day was dedicated to bystander intervention. Keyvanfar said, "when there is a dangerous situation going on and there are witnesses/bystanders it is less likely for someone to help out because everyone believes that 'someone else probably already has done something'." Students explored the options of how they could intervene in a situation without putting their safety in jeopardy.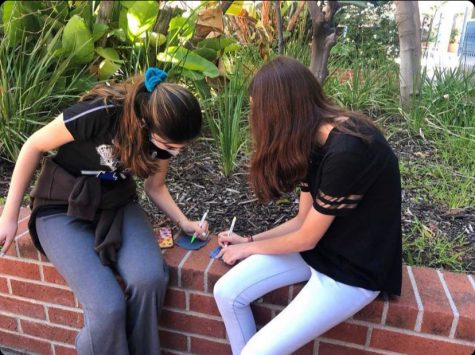 Keyvanfar explained how bystanders perpetuate this issue: "a particular statistic states, 30% of sexual assaults are witnessed by bystanders however no action is taken because of the Bystander Effect."
A survivor, who requested anonymity, also participated in these events and told students about her experiences. 
Lastly, a video was shown to students by the YouTube TV series Ladylike, about a survivor and their experience.
The events each served a purpose and were impactful, according to Keyvanfar.
"We want to stand together and support each other, and that's what all these events aim to spark," she said.