Anti-Mask and Anti-Vaccine Graffiti Appears in the Palisades Village
Protests against California mask mandates and vaccine requirements are part of the reality of a COVID-19 world. Messages voicing opposition to COVID-19 safety measures have been plastered around the Palisades Village area for several months. 
Sketches of face masks with the word "SLAVE" inscribed on them have been spotted all over the Palisades on various sidewalks and electrical boxes. "Masks are child abuse" and "Socialist Distancing" are just some of the phrases that have appeared over banners and on crosswalks outside of Palisades Elementary School.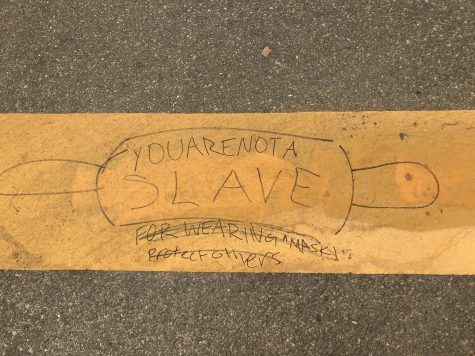 Some community members have responded to the messages, communicating with the vandals through their chosen medium — graffiti. A drawing of a mask on the crosswalk at the intersection of Via de La Paz and Bowdoin Street read: "You are not a SLAVE for wearing a mask to protect others." Another drawing at the same intersection had the word "SLAVE" crossed out and the words, "You wanna be oppressed so bad, chill out" written over it. 
An electrical box outside of Erewhon Market on Sunset Boulevard depicted an illustration of Gavin Newsom holding a vaccine with the word "OBEY" written on the top, as well as a "syringe swastika" on the bottom-right corner. This graphic was quickly painted over, as were the masks, but the Newsom poster is one of the few pieces that has yet to reappear.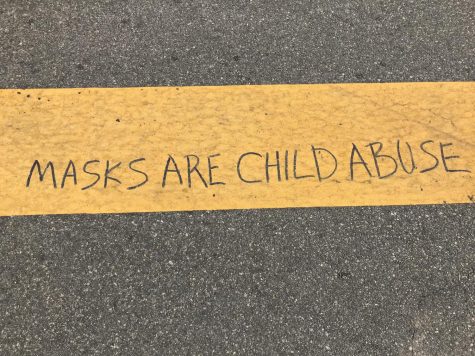 Pali sophomore Emmett Whitaker lives in the Palisades' Alphabet Streets and sees this graffiti almost daily on his commute home from school. Although Whitaker said he believes that everyone has the right to freedom of speech, "… nobody should be allowed to use it to say things that have really violent and derogatory connotations." 
"I don't think it's a big epidemic, but I do think the number one problem is that people need to stay safe," Whitaker said. "I think everyone should just be focusing on that, whether it's getting the vaccine or wearing a mask."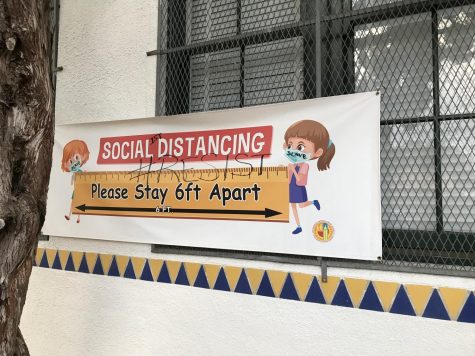 While most people around the Palisades Village are following mask mandates, sometimes patrons need gentle reminders.
Stella Becir, a Pali senior who works at Toppings, said, "I've had to politely tell them, 'Hi, we do require masks,' and a lot of the time they will cooperate. But a lot of the time they won't."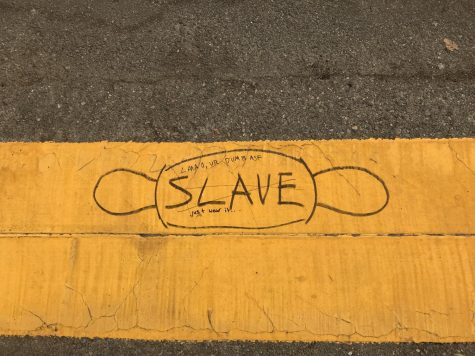 California Gov. Gavin Newsom (D) recently signed legislation mandating that, beginning Nov. 4, everyone must show proof of vaccination for all indoor activities including restaurants and movie theaters. 
In response to the new mandate, Becir said: "Personally, I'm glad we're doing it. There will be backlash definitely, but I think that's just something I have to be ready for. We may lose some customers, but if that's for the overall health of everyone, I think it is okay."