Pali Athletes Take Part in the College Recruitment Process
With 217 City Section titles, Pali is known for its long, dominant athletic history.  Given this reputation, it's no surprise that many Pali athletes are recruited by prestigious collegiate sports programs.
One such student is Pali senior Jacob Herrera, a co-captain and outfielder for the baseball team. Herrera joined the team at the beginning of his freshman year and eventually was promoted to the varsity playoff roster.
Outside of Pali, Herrera plays for Trosky Baseball, a travel club team located in Antelope Valley that competes in tournaments hosted by Perfect Game and USA Baseball.
With daily morning practices that start at 7 a.m. and afternoon practices that range from two to four hours, Herrera estimates that he spends 20-25 hours every week on baseball.  
Herrera independently participated in baseball camps hosted by colleges such as Claremont Mckenna College, Saint Mary's College and Chapman University. 
"Visiting these campuses is not only an opportunity for these universities to see who I am, but it's also an opportunity for me to see who they are," he said. "College camp visits are fun, but it's important to take them seriously."
Although he hasn't committed to a college yet, Herrera has participated in numerous showcases where players display their athletic abilities in front of college coaches and Major League Baseball scouts. 
"The hardest thing about this entire recruitment process is the pressure I have on myself to do well," Herrera said. "It's a bit discouraging when no coaches reach out to me after a showcase. It's important to keep your head up and not make the same mistakes at the next showcase or camp."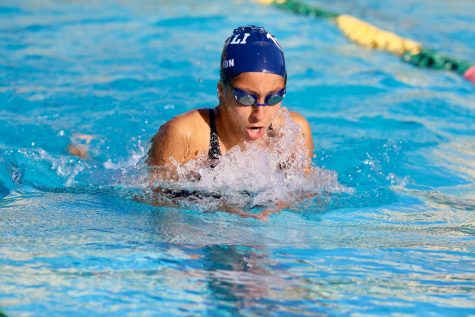 Pali swim team member Kavita Sekhon is yet another senior attempting the recruitment process. Now in her ninth year of competitive swimming, Sekhon currently practices and competes for Pali as well as Westside Aquatics, a competitive club swim team based in Pacific Palisades.
Sekhon, who also competes for Pali's water polo team, admits that it's hard to balance her time between school and sports. 
"I found that doing homework at the pool [deck] before Westside practice was a good use of time," she said. "Managing schools and swimming has always been difficult for me, but I figure it out."
Sekhon estimates that she spends around 15 hours a week practicing.
Similar to Herrera, Sekhon reached out to college coaches with her swim times and accomplishments in an attempt to get recruited. 
"Communicating with coaches across the country itself is very challenging," Sekhon said, noting that the COVID-19 pandemic has made the process even more difficult. Many colleges are restricting high school recruit visits to their campuses, and some college coaches are limiting the number of scouting trips they take. 
"It's important to know a college and meet swimmers on teams to understand the atmosphere there," she said. "Since I'm not allowed to do that for most colleges unless they invite me, I need to find alternative methods."
Even though the process can be discouraging at times, Sekhon says that the vision of swimming for a college motivates her to continue trying.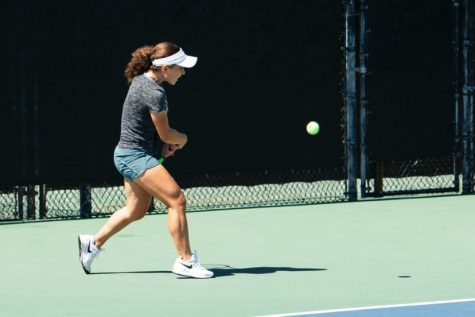 Iris Berman, a senior on the Pali girls' tennis team, verbally committed to Emory University in August 2021. She has been playing competitively since she was eight years old and, not surprisingly, joined Pali's team as a freshman.
During the summer before her junior year, Berman communicated with multiple college coaches and attended Zoom presentations about schools she was interested in. She also independently competed in state and national tournaments when high school matches were canceled due to the pandemic.
After an injury sidelined Berman during her sophomore year, she decided to start the recruiting process as early as possible to make up for the time lost.
Emory University, Claremont Mckenna College, Wesleyan University, Dartmouth College and Washington University in St. Louis all expressed interest in Berman, but as she announced in an Instagram post on August 11, she is set to attend Emory University next fall.
Berman said she received her recruitment offer from Emory in March 2021 and was invited to visit Emory's campus, where she had the opportunity to meet coaches and players while touring the tennis facilities. 
"I was able to imagine myself attending the school while walking around," she said. "I felt like I had a connection with the coaches and some of the players I met."
She added that Emory won its eighth national championship last June, "so my goal is to help bring number nine."
Although the college recruitment process can be difficult, Berman said she encourages student-athletes who are aiming to play at the collegiate level to keep going. 
"It won't be easy, but it's definitely a rewarding and motivating moment when you get that email from a coach," she said. "Make sure to keep your grades up and consistently perform well in whatever you play."