Two Pali Juniors Launch Literary Magazine
Compiling different artistic mediums ranging from poetry to short stories to photography, the Lades Literary Magazine debuted in print on the last day of the fall semester.  
Juniors Lila Allen and Bailee Isackson, founders of the magazine, said that they first came up with the concept of a magazine in eighth grade.
"We were thinking about it for a few years, but we didn't go to school together yet," Allen said. "When I moved to Pali [this year], that was the perfect time to do it."
Funded by the Booster Club, the pair created an 18-page spread that included work from students of all grades. They plan to release a second issue soon.
The two said that their work is inspired by an artistic movement during the early '70s, when a magazine focusing on punk rock debuted.
"We both read Please Kill Me by Gillian McCain and Legs McNeil, who were the creators of the original Punk magazine, before the school year, and we were both like we want to do this," Allen said.
Isackson added, "My mom also had a literary magazine in high school, … I found a couple of [copies], and they just really inspired me so there's definitely some inspiration from them in the magazine."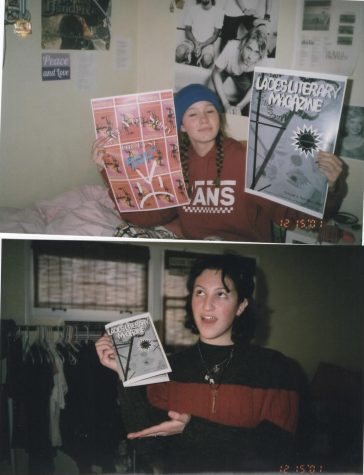 After requesting production funding from the Pali Booster Club and launching the magazine, the students reached out to English teacher Stephen Klima to oversee the publication and offer guidance.  
Allen said that it was difficult to figure out how to produce the magazine. 
"We didn't really have any instructions to follow… there was not one way to do it so we had to learn as we did it," she said.
Allen and Isackson met with the English department teachers over Zoom to strategize how to go about receiving student submissions for post. They began the search by posting on Instagram and putting up flyers around Pali. With the consent of students, some English teachers also submitted class assignments.
After collecting all of the pieces, Allen and Isackson used Pali's Adobe Creative Cloud license to compile the pages into a spread.
"We had to try to give it out on the last day of finals which was really hard because hardly anyone was at school or they had to leave as quickly as possible," Allen said. "We also did not get a table [from facilities]. I think that was really discouraging, but hopefully this round goes smoother and more people come and get one."
This month's issue of Lades Literary Magazine features content revolving around the theme: hopelessly devoted. Paying homage to Valentine's Day, Allen said that this theme is supposed to represent all forms of love, whether it be platonic or romantic. 
"It's interesting to see people's interpretations of love at our age," she said.
Readers can expect to see this issue come out towards the end of February.
Although submissions for the latest edition are now closed, Allen and Isackson emphasized that they value and need new submissions in order to continue publishing the magazine. Interested writers can send their work to [email protected].