Hate Speech or Free Speech?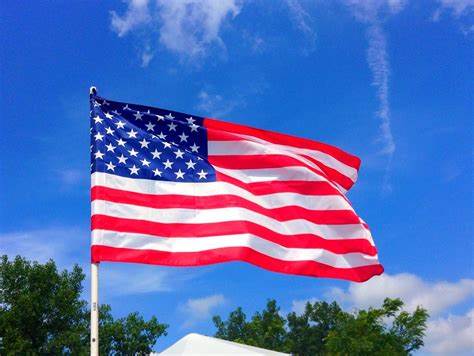 Pali students flooded the quad on Tuesday, May 23, gathering en masse to witness a demonstration organized by senior Michael Francoeur. Standing silently in the middle of the quad and holding up a "Trump 2020" flag, Francoeur said that he wanted to advocate for his First Amendment rights. Throughout the demonstration he remained stoic, but the people around him took the event much further, shouting at him and disturbing the lunch period. The mob of students posed for photos, threw food and milk, and held up flags of their own; a demonstration that began relatively calmly exploded into a rowdy horde, creating a potentially unsafe environment for students and staff.
The day before, Pali's Queer Student Union (QSU) hosted a student-run drag show in Mercer Hall, in which 11 student performers and one teacher dressed up in drag and performed in front of hundreds of students and staff. Leading up to the show, Franceour expressed his opposition to the event on social media, suggesting a protest in support of his notion that "there's only two genders" and sharing his plan to bring a Trump flag onto campus.
The morning of the show, he made good on his promise, carrying a "Trump 2020" flag on a pole to school with him. However, his act of protest wasn't as peaceful as it seemed. According to QSU member Stella Simons, she was carrying a pride flag as a prop for the drag show when Franceour confronted her, holding up his Trump flag in an attempt to intimidate her. As they stood with their flags, a crowd of students formed around them, some shouting hurtful messages.
"I was less disappointed in [Franceour] and more disappointed in how many people were rushing to us…," Simons said. "There were a lot of really awful things said from people coming up around us," Simons said.
Francoeur said that his demonstration in the quad on the following day occurred in response to Pali's reaction to these initial events. 
"The intent was to stand for the First Amendment," he said. "True Americans such as myself will never allow any fascist to take away my free speech."
Francoeur alleged through social media that Pali threatened him with disciplinary action if he brought the Trump flag to school again. 
"The school informed me that I could not fly the Trump flag, or even bring it rolled up to class, because it is 'inciting violence and fear' and is 'harmful speech,'" Francoeur posted via Snapchat. "I will be flying the Trump flag tomorrow for the entirety of lunch. … If I am stopped, Pali will face legal repercussions." 
Following the demonstration, David Pickard, Pali's QSU advisor, spoke out about the incident. 
"Everyone has the same right to put on clothes and dance on the stage as others have the same right to stand in the quad and hold a flag according to the First Amendment," he said.
In an email, the Pali administration vaguely explained their response to the incident: "Tomorrow morning, administrators are meeting with parents of involved students. A meeting with a diverse group of students is planned for the afternoon to hear concerns, assess campus climate and develop a plan to address the identified needs." 
The email went on to cite social media's "profound influence" in possible instigation of such events. The administration did not respond to further questions from Tideline.  
However, Francoeur maintained his disdain for how Pali responded to this development, claiming that the "administration is not happy with my demonstration" and going on to provide his perspective on the attempted student-parent meeting. 
"The administration tried to call me into a parent-student meeting, which I avoided," Francoeur said. "[It was a] complete waste of time, trying to convince me not to do it again…They suspended 15 kids [due to violence during the event], but there should not be an environment where 15 kids think of doing that [violence] in the first place."
"The event was not organized at all," he added. "It was just me with my outdated flag making a statement." 
While some may view Francoeur's promotion of his protest and its result as grounds for intervention by the administration due to hateful rhetoric, bringing a Trump flag to school is typically considered protected political speech. Freedom of speech within schools is generally permitted so long as the demonstration does not disrupt the learning environment, according to the American Civil Liberties Union. It therefore appears unlikely that Francoeur will face any administrational consequences because he stood silently with a flag — what others did in response to his actions is not considered his responsibility.
Though the message Francoeur said he wanted to send supported freedom of speech, his actions prior and throughout the event suggest that ulterior motives remained. Given Francoeur's intense opposition to QSU's drag show the previous day and his extreme campaigning against the event  both in school and on social media, it is clear that the drag show impacted his decision to demonstrate in the quad with his Trump flag in some way.
In situations like this one, it is imperative that one considers not only their primary goals or immediate actions, but also the people they are impacting as a result of their actions. While Francoeur's demonstration in and of itself was peaceful and likely supported by the First Amendment, the underlying message behind it was undoubtedly one of intolerance, which can be incredibly harmful in a school setting whether protected or not. Ultimately, his actions made some Pali students, including Simons, feel unsafe and unwelcome in their community, and that consequence has to in some way negate the message, however significant, that he intended to send.
"The school silenced me for flying a Trump flag the morning of the drag show," Francoeur said. "I hoped to show that multiple perspectives exist at Pali, and it is not just one sided. I flew the flag the next day in response."