Pali Administration Revises Class Rank System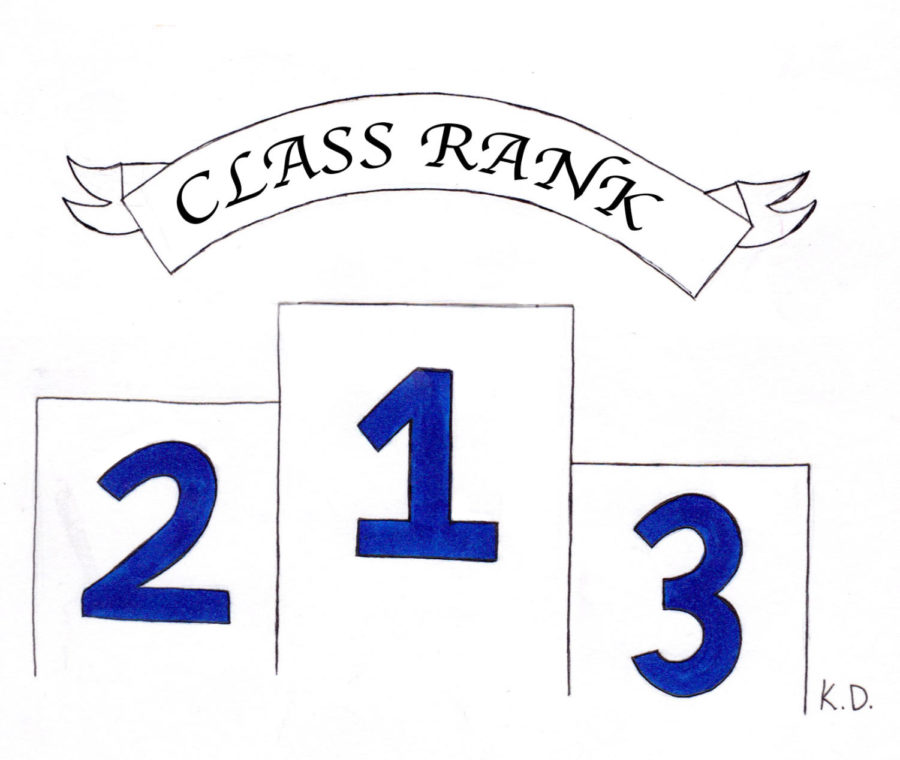 Recently, the PCHS Board of Trustees, the College Center and the Department Chairs collectively decided to end class rank, a system that compares the grade point average of each individual student to the rest of their class and gives them a specific rank. This decision will take effect for the current sophomore class and subsequent Pali students.
"The key concerns were that it fostered an unhealthy competition and led to increased stress and feelings of being overwhelmed for many students," Director of Academic Planning and Guidance Services Chris Lee said.
In agreement with Lee, Head College Advisor Karen Ellis is happy with the decision to discard class rank saying that "I don't like the fact that the kids just drive so hard to be No. 1… what they should focus on is being their best self, doing well in their classes, and doing what they are capable of."
Pali's administration discussed the issues with class rank at Curriculum Council Meetings, Administration Meetings and Board Presentations, basing their decision on information from the College Center as well as the opinions of parents and students.
Another major issue with class rank is that "because PCHS is such a high-achieving school, many students with impressive GPAs, even around 4.0 or so, would not even be ranked in the top 100," Lee said.  
Sophomore Mia Emerson agrees with administration's decision. "[Class rank] would make you jealous of people and lower your self-esteem," she said. "It pits us against each other."
Although Emerson appreciates the decision to eliminate class rankings, she recognizes that the increased level of competition may have encouraged students to work harder. Emerson said that her two older sisters who graduated from Pali were in favor of the system because "it assured them that they were smart and doing well in school."
In contrast, senior Keren Dror strongly disagrees with administration's decision to discard class rank.
"I understand that students may feel upset upon looking at their rank," she remarked. "But, why deprive the top 10 or even top 20 of knowing how well they did, of being congratulated for their hard work?"
Dror said she is currently ranked second out of her class of 723 seniors and is happy that she is able to see her class rank because "I knew that I worked really hard in high school and was ready for some tangible results."
Dror is working on her college applications and acknowledges that "every school in the nation is different, and thus it is unfair to expect everyone to be ranked high when other schools may be extremely difficult or may not even have ranking."
Because of this discrepancy between different high schools, she believes that class rank doesn't have a huge effect on college acceptances. However, according to Dror, students should still have access to their rank as "there is no reason that hard working students with practically straight A's should not be informed of their rank at the end of their first three difficult years at Pali just because a few students feel left out."
In an effort to address the concerns expressed, Ellis said that the administration will introduce a  replacement ranking system. This program will consist of deciles to identify the top 10 percent of Pali students, and every following group of 10 percent.
Under this new plan, the College Center will still have access to each student's rank so those top 10 to 20 students will still benefit from their hard work, and the valedictorian and salutatorian will be identified. Because the College Center will have the specific rank, staff can include it in any college letters of recommendation.
"By getting rid of [class rank], kids don't have to compete with each other as much for that top spot in the class," Ellis said. "So now, you are just competing with yourself to do your best to earn a spot in your college of choice."
In an ongoing effort to support students both academically and emotionally, Lee said that he is "hopeful that students will take on classes and activities in order to better themselves and their communities, rather than to perceive themselves as better than someone else."
The input from Pali's stakeholders, the College Center and general education trends informed administration's decision to revise the ranking system, and Ellis hopes that without class rank, students will be able to stop "… worrying about competing so much [and instead] they can just focus on what they can do, what they can handle, and what they can manage."