The Reality of Female Football Players
Hang on for a minute...we're trying to find some more stories you might like.
There are few things that represent masculinity as much as football. Dominated by males — from players to owners to coaches — the sport is a central part of American culture. Yet, in the era of the #MeToo movement and the Women's March, female faces have been appearing on sidelines all across the country.
This change is even evident in high school football. In 2009, out of more than a million high school football players,1,249 were girls. Fast forward to 2017, and despite a decrease in the total number of high schoolers playing football, the figure for female players had grown to 2,237.
Even in the National Football League (NFL), females are rising through the ranks and attaining positions as coaches and referees.
In 2016, Kathryn Smith became the first female to be hired as a full-time coach in the NFL. Smith was the special teams quality control coach for the Buffalo Bills for the 2016-17 season.
Only a few weeks ago, in one of this year's AFC Divisional playoff games between the New England Patriots and the Los Angeles Chargers, NFL referee Sarah Thomas became the first woman to officiate a professional playoff football game.
However, women hoping to actually play football in the NFL may face more obstacles; in fact, a female has never played on a professional or even D1 collegiate team.
Girls with a passion for the pigskin have traditionally been steered into powderpuff football — a variation of football intended for female players, which got its name from cosmetic face powder. This opportunity for women to venture into the world of football began in 1945, and come spring, the game will make its annual return to Pali.
Unbeknownst to many current Pali students, the school was ahead of the pack in this female tackle football movement. Since 1988, four girls have held a spot on Pali's JV or varsity football teams, according to dean and former varsity head coach Kelly Loftus.
Two kickers, one wide receiver, one linemen: these four females reached levels that very few before them had. To venture onto an all-male team in an essentially all-male sport was not a common sight, but even in this unfamiliar environment, these ladies held their own.
"All of the four girls were very conscientious, they were on time…they were never a problem," Loftus said, recalling his days as Pali's head coach. "That indicates to me it was a sincere passion they wanted to pursue."
This football shakeup didn't come without skepticism, especially among players who worried about how their female teammate would shift the team's dynamic.
According to Loftus, the team was cynical about having female teammates; they questioned whether they would have to change drills, with their main worry revolving around accidentally hurting a female player in a tackling drill.
Despite initial doubts, once the girls proved they could hang with the best of them, the males became more accepting of their female peers.
"The boys honored [their female teammates] — I don't want to say as one of their own because that sounds so corny, but they honored them," Loftus recalled. "They respected them without any problems."
These women created a path for future generations of female football players. However, in current varsity head coach Tim Hyde's six years at the school, he has yet to see a female try out for the team.
"I would love [to have a girl] on the team. I think it would be awesome," Hyde said. "If [girls] want to come out and play football, they're more than welcome to."
This current absence of females in football at Pali may be a result of increased awareness about injuries. Is it really a good idea for females to engage in a sport with males who might be twice their size? With today's knowledge about concussions and the danger of head injuries, many question whether females — or males — should consider getting involved in football in the first place.
As the goalkeeper for the Pali girls soccer team, senior Leah Radow is no stranger to hard hits. On occasion, she has to sacrifice her body to make a key play, even if the result is an injury such as a concussion. When discussing football, an extremely high-contact sport, Radow is aware of the physicality involved.
"Regardless of gender, football is a high-risk sport," Radow said. "If a female wants to play football… she should definitely take into consideration that she will be pushed around just like any of the boys on the field."
The concern for injury is a realistic fear for females hoping to one day play tackle football with men. Already, in sports played separately by both genders, girls are 56 percent more likely than boys to suffer from a concussion. That very well may be because, as some studies suggest, females lack the masculine reluctance to report concussions. Then place that female in a setting where the majority of her opponents are significantly larger, head injuries are very common, and the risk becomes even more serious.
"There are a lot of girls playing [youth] football, because when you're ten, there's no difference [in size]. In fact there are some girls who actually excelled in rocket football because they were as fast as any of the boys were," Loftus said. "By the time you're 17, that changes…If you're putting heavy weight on the bench to increase your chest size…the women just don't respond the same way."
Loftus believes that, as time goes on, it will become more common to see a woman on a high school football team. Yet when it comes to college and professional football, he feels that not just physical, but cultural limitations surrounding gender might be too great an obstacle to overcome.
"[For] D1 football and pro football, I'm not sure you'll ever see a woman play," he stated. "There might be a point where I eat my words, and I hope I do before I die, but we need to have a woman president first — that's way more important."
Coach Hyde had a slightly different perspective.
"I think…at any job, if you're good at what you do, you have respect, you're knowledgeable, and you bring something to the table, anyone is gonna hire [you]," he explained. "There's so many great [female] soccer players…I wish one of them would want to come out and be our kicker or be our punter."
One of these strong-legged soccer players is Radow, and while it may be too late for her to start up a football career, she's all for females taking the field.
"If I had to start high school over again, and I had some time to jumble, I would probably give [football] a shot!" she remarked.
Should a female one day make it back in the ranks of Pali football, team members seem to have a similar philosophy to their coach: A player is a player, regardless of gender.
"We'd treat her like a regular teammate, if she performs like a regular teammate," said junior Max Palees, a First Team All-League running back on the varsity football team.
Even if actually competing in the NFL isn't a realistic solution to appease the growing number of females who hope to get involved in football, an alternative answer could soon arise. Although there's no professional league for women in the U.S., there are three 11-on-11 amateur leagues. If current trends continue, these leagues may soon evolve into a more professional organization.
"I think that as time goes on, more women will have more jobs in the world of professional sports," Radow said. "As a female athlete, I can say that, without a doubt, I'm very optimistic for women in the future of sports, and am excited to see how females can continue to contribute."
About the Writer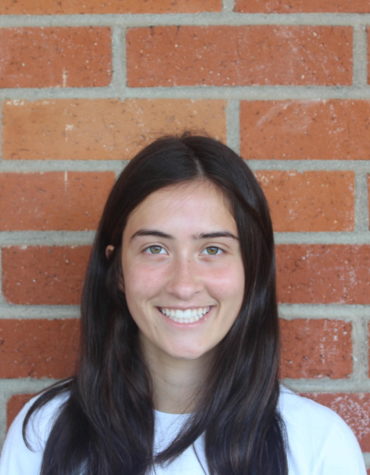 Ava Kerkorian, Sports Editor
Ava Kerkorian joined the Tideline staff as a sophomore, but her passion for journalism began in middle school, where she served as an editor for Paul Revere's...