CupcakKe needs to be protected at all costs
CupcakKe is a national treasure, and we need to protect her.
Chicago rapper Elizabeth Eden Harris, known professionally as "CupcakKe," has surged into the spotlight in recent years, using clever wordplay and an almost cartoonishly erotic public image to captivate and sometimes shock audiences. It is well known that the public's interest in titillating material is often piqued by the obvious and that sex can overshadow artistry and sensitivity. Unsurprisingly, CupcakKe's explicit lyrics have garnered more attention than anything else in her arsenal.
Examine the first verse of her hit song "Deepthroat." It may seem like an inappropriate, thoughtless jumble of words, but thinking her work simple minded would be a lazy misreading of CupcakKe's genius. She is able to create complex storylines using easily understood lyrics that can fascinate us and draw us in.
Sure, the music industry hardly needs any more lewd, sexually graphic lyrics, given that many current artists, especially in the hip-hop world, seem to focus their songs exclusively about money and sex. But CupcakKe's humor, thoughtfulness, and social consciousness set her apart— she promotes a message of self-acceptance and self-determination that is unusual in a male-dominated industry that condones and even celebrates putting down gays and women.
In her song "LGBT," written in 2016 for Pride Month, CupcakKe delivers an ode to the queer community. She goes down the list of the ways people can be different, both sexually and personally, without broadcasting the tired, redundant "Love is Love" message. Though raunchy and salacious, she remains political as she advocates for the marginalized in society: "Don't judge a lesbian, 'cause she don't want you back man/…And shout out to the bi's, you ain't gotta pick a side/ And if you in the closet, shorty, you ain't gotta hide."
CupcakKe's creative range is not limited to sex. She's addressed a multitude of weighty topics in her songs, such as the 2016 singles, "Picking Cotton," a trenchant narration illustrating the struggles that come with being black in America, and "Pedophile," her denunciation of adult offenders who use intimidation and power to sexually abuse children. Both singles elicited overwhelmingly positive reactions from fans, encouraging YouTube comments from user 'bagel,' who says "ok ill be real i liked her music as a joke but her new album actually speaks about certain issues and i actually have respect for her" and 'Madeupshaheer,' who asks, "Why is cupcakke not running for president? take my coins and my vote mama!"
Claudia Goore, Pali sophomore and avid CupcakKe fan, says of the star, "I think she explores topics that younger people need to be informed about in a way that kids enjoy listening to." Goore went on, "I just feel like a lot of music is people putting words together that rhyme, but CupcakKe really is serious about all these issues and is informative with her lyrics. And if you really pay attention, you can learn something from each of her songs."
CupcakKe's commitment to issues stretches far beyond sharp and witty observations. On Jan. 2, 2018, CupcakKe retweeted a message by Twitter user @queerstewart, "‼️ URGENT ‼️ If you live in Baltimore, Maryland and have a spare room an LGBTQ individual who will soon be homeless can stay in for max 5 days PLEASE CONTACT ME." CupcakKe replied to the tweet, saying, "Tell him pick his dream hotel, I'll cover it including food. No worries love." She doesn't just rap about inclusion and doing the right thing. She actually does it.
Coming from poverty, CupcakKe has faced a deluge of hardships, including a period of homelessness which started when she was seven. In 2016, according to Paper Magazine, CupcakKe donated $1,500 worth of toys to the homeless shelter she used to live in, declaring in a Facebook post, "when I had nothing to eat , no where to go , no nothing THE SHELTER WAS THERE."
Judging by such actions and extensive charity work, the rapper clearly is able to connect with people because she understands what it's like to have nothing. She's not some Beverly Hills snob who had all her opportunities handed to her. She's overcome more in her 21 years of life than many ever have to. Her experience with misfortune allows her to connect to, empathize with, and possibly aid fans who have been in similar situations.
Sophomore Yman Kamgaing claims that "[CupcakKe] taught me and my friends to be ourselves" and credits the rapper with boosting her confidence. "She's my queen, and I'm thankful for her. Her music has truly helped me."
All the more reason for her supporters to react with alarm when, on Monday Jan. 7 of this year, CupcakKe tweeted her plan to commit suicide, which was then followed by a screenshot of the tweet posted on her Instagram. The caption of the post read, "Thank you for everything y'all have done for me I really appreciate it." Fortunately, CupcakKe was immediately taken to a hospital for treatment and a mental evaluation. The next day, she tweeted an update confirming, "I went to the hospital & im finally getting the help that I need to get through , be happy , & deliver great music . thanks for all the prayers but please don't worry bout me."
I'm not a psychologist. I don't know the reasoning behind her post, and I don't know her personally. But what I do know is that we owe CupcakKe our respect. She has earned our support and deserves to be reassured by us for who she is, for what she says and for what she's done. Her unique brand of advocacy and promotion of self-acceptance shows tremendous political astuteness and social awareness, and it cannot be overstated how much the music industry needs a voice like hers. It is critical that we ― as fans, as students, as humans ― support people like CupcakKe.
About the Writer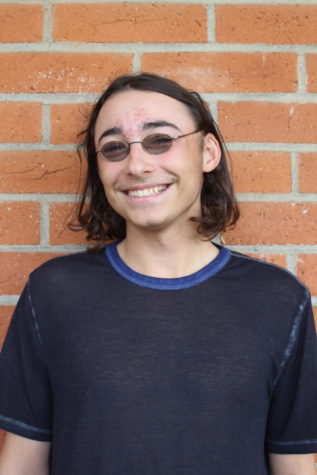 Atticus Parker, Editor-in-Chief
Atticus Parker is a senior and currently holds the position of Editor-in-Chief for Tideline. He worked as a staff writer in his sophomore and junior years...