The Case for Mandarin at Pali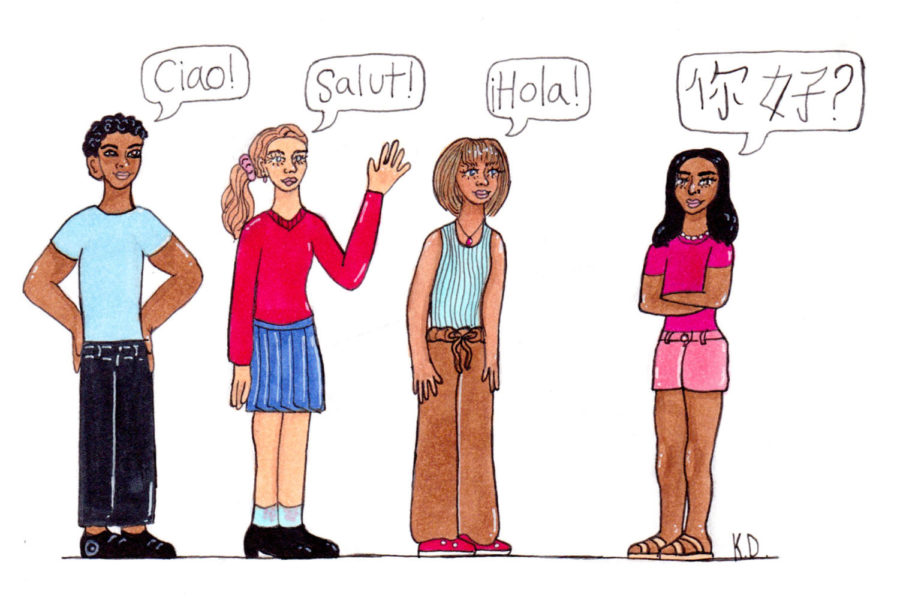 As the daughter of a Chinese immigrant, I grew up steeped in the sound of Mandarin in my home. Because of my childhood obsession with Chinese shows such as "Little Nezha" and "Sun Wukong, The Monkey King," I was almost completely fluent in Mandarin by the time I was five. Knowing it helped me connect with my Chinese grandparents, who delighted in their little half-white sūn nǚ prattling on in the language of our ancestors.
However, as the years slipped by, so did my gift. By the time I was 11 years old, Chinese words felt thick and foreign in my clumsy mouth. It was then that I began to sound more like an American ordering at P.F. Chang's than a native speaker.
In middle school, I was ecstatic about the prospect of re-learning Mandarin in high school. Little did I know that I, along with all other future Pali students, would not be afforded that joy.
When I was given a link to a Google Sheet to select my courses at the end of eighth grade, I eagerly searched for the purple circle next to the word 'Mandarin.' Instead, the choices were Spanish, French and Italian. In one second my hopes for improvement were decimated and I was left baffled as to the reason why.
I was aghast at the fact that only Romance languages are offered. It seems to me that through this one small omission, Pali is denying a sizable portion of the student population the opportunity to learn about Chinese culture.
On top of the fact that foreign language students were learning in a culturally insulated environment, they were also being denied access to indispensable resources that serve as the gateway to a myriad of opportunities. In recent years, Mandarin has grown to become the Holy Grail for job employment. Demand for executive positions in American and multinational companies in China has skyrocketed, increasing 35 percent, according to a study conducted by Ascentator. This has triggered a new frenzy for bilinguality that has even become a motif among the upper class, with countless celebrities such as Jeff Bezos and Ivanka Trump scrambling to enroll their children in Mandarin classes.
Despite these compelling cultural and practical arguments, Mandarin remains absent from the Pali class roster. Based on the narrow selection, one could assume that either the World Language Department opted for the path of least resistance or simply wasn't concerned with spreading truly unique linguistic and cultural diversity.
Ms. Maggie Nance, Spanish teacher and head of the World Language Department, assured me that this was not the case. She maintained that the issue lay with "teacher availability and student demand." She explained that she had in fact argued in favor of adding Mandarin and Farsi courses to the department. However, she reasoned that since newly introduced languages likely wouldn't face high demand, a teacher of a new language would also have to be credentialed in a more popular language, such as Spanish, in order for the proposal to fly.
This certainly opens up a bureaucratic can of worms. The sheer logistics of the issue appear almost insurmountable, as a new Mandarin teacher would have to be credentialed in both Mandarin and another existing foreign language offered at Pali. The possibility of finding such a candidate is exceedingly miniscule, as Mandarin and Romance languages essentially share no similarities. Despite these dismal prospects, a seemingly tailor-made solution currently resides within the walls of D104A.
Ms. Yakun James, a full-time Algebra 1 and Geometry teacher at Pali, is credentialed in both math instruction and Chinese language and culture studies. She has experience teaching Mandarin at Culver City USD and is considering the possibility of bringing her linguistic skills to Pali's World Language Department.
"I'm proud of my language and culture," she said. "Math is also a kind of language, but I am also interested in teaching the Mandarin language here at Pali."
James's classroom mirrors her duality — swimming with red and gold, the walls brim with Chinese posters hanging alongside the standard wall decor of a math classroom.
However, despite her readiness to teach, James too remains dubious of her goal actually becoming a reality. "I'm a full-time math teacher," she said. "I guess it's the funding and logistics behind teaching in two departments that's preventing this from happening."
According to Nance, this is precisely the issue in James' case. Nance stated that when she presented the proposal of James teaching Mandarin, she faced significant backlash from the Mathematics Department. This is fitting, as the department didn't want to be shortchanged a valuable teacher, especially to what amounted to a pilot program. Thus, she remains bound to the department.
James is not just a run-of-the-mill math teacher; her invaluable skill set seems to set her apart. If the endeavor were to succeed, it would usher in a new golden age of the World Language Department.
As a whole, all of the resistance and inaction traces its roots back to one core unknown variable: student demand. Currently there is a "lack of communication between administrators and students," as James put it. In a school where bus routes are being cut due to meager funding, the notion of establishing a course without concrete evidence of student demand amounts to pure fantasy.
However, demand seems to be the one piece of the puzzle that already exists. The disappointment I felt seems to be a common theme among many students on campus.
Sophomore Sarah Kageyama voiced her concerns with the school's current selection of languages. "Chinese is a beautiful and complex language, and only teaching European-based languages takes away from the cultural diversity our school claims to be so proud of," she stated. "Chinese is also one of the biggest languages in the world, and it could be extremely useful for many of the students in future educational and job opportunities."
Sophomore Sadie Kaufman expressed similar dissatisfaction. "Going into high school I was very excited and expected to be offered lots of variety," she said. "Unfortunately, I ended up having to take [Mandarin] outside of Pali, because I wasn't happy with the current [languages] being offered." She said she would "definitely" sign up for a Mandarin course if it became available.
However, it is critical that students mobilize and voice a full-throated announcement of these desires. Real action could only ensue after this disconnect between students and administrators is bridged.
For students, helping shape the landscape of campus activities could be as simple as a few keyboard clicks. All it takes is one well-written survey to pinpoint student feelings on campus.
Originally, leadership was going to include the question, "If there was a Mandarin course offered at Pali, would you take it?" on their next freshmen survey. However, when they presented this proposal to administrators, it was cut to "What courses should be offered at Pali?" because the original question was ruled "too specific." With this single reduction, the effort to uncover student desire for this class has been obscured. This adopted survey question is so broad that it is unlikely that anybody but the most zealous students would take the time to voice their concerns about Mandarin, when in reality many more with even a casual interest would likely value and take the class.
It is essential that there be a remedy for this issue. Perhaps a solution could be the support of a concrete body advocating for the cause, in the form of a club. Even if existing clubs, such as Asian Student Union, voiced a desire for a Mandarin class, this would strengthen the cause.
In the end, if enough students put their want of Mandarin in plain view, the strain and inconvenience of solving the many logistical conundrums would be justified. Schools are designed to serve student interests, and administrators would be more eager to implement a new program if they understood that it was within student interest. Until this becomes apparent, all we can do is pray for the World Language Department's unlikely success in the matter.
We must remember why this push for Mandarin is necessary. Its practicality would help hundreds of students achieve their goals, all while challenging their minds in completely new ways. However, the more compelling argument lies in language's role in normalizing Asian culture.
It is language that forges mutual understanding in society. With the addition of Mandarin, Pali would modify the common view of Mandarin as an alien language. New knowledge would allow students to identify with Asian culture — even a handful of words opens a vast new world of understanding and connection. This understanding must be expanded beyond the existing Romance languages; true inclusivity can only be achieved when Pali evolves past its current Eurocentric environment.