For These Fans, it's More than a Game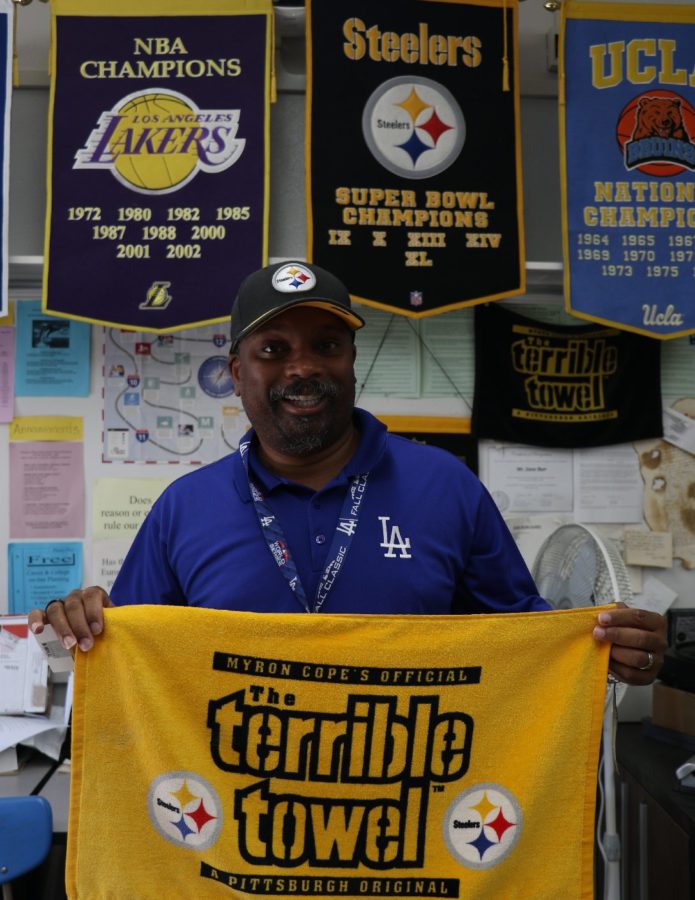 Anyone who walks into AP World History teacher Steven Burr's classroom will know that he is a huge Pittsburgh Steelers fan. There are Steelers poster, Steelers terrible towels, and Steelers hats. Burr is such a Steelers fan that, when it comes to game day, he says he "tend[s] to watch by [himself]" to avoid distractions.
Burr said he became a Steelers fanatic in the early '80s after he had to write a school report about Superbowl XIV, in which the Steerlers were victorious over the Los Angeles Rams. As he continued to watch Steelers games, Burr became "more and more diehard."
He is not alone.
Some people are casual fans, mere spectators who wanted a day out of the house to watch their local team. And some, like Burr, are more extreme. Commonly referred to as superfans, these enthusiasts take what it means to be a sports fan to a new level.
In 2008, after he was already a full-fledged member of the Steeler Nation, Burr traveled to Pittsburg with a friend to watch his first Steelers' home game. He bought the tickets in August when the Steelers' opponent that week, the Cincinnati Bengals, were projected to have a subpar season. The Steelers ultimately lost, and according to Burr, "it was heartbreaking."
Another time, Burr went to Pittsburg to watch the Steelers play their rival, the Baltimore Ravens. Toward the conclusion of the game, the Steelers made a defensive stop, causing fans to cheer in excitement as they thought their team would win. "I was hugging people around me –– people I didn't know –– and just high-fiving," said Burr. The Ravens eventually scored a game winning touchdown and Burr was crushed, saying, "I have never gone from such highs to such lows."
Despite these heartbreaks, Burr said he continues to go to Steelers games and even tries to attend "at least one to two games a year." He has converted his daughter into a Steelers fan, and she enjoys going to games with him. She even wore a Steelers jersey on Paul Revere Middle School's Sports Day, Burr said. Although he has experienced soul-crushing moments as a Steelers fan, Burr continues his fandom and cherishes their triumphs, such as the Steelers' Superbowl XLIII victory.
Along with teachers, some students also share the same passion for sports and a certain team. Pali junior and Los Angeles Dodgers fan, Nate Akiba, is very enthusiastic when it comes to his team. Akiba has "been a fan [his] whole life and will be one for the rest of [his] life." He constantly wears team apparel and watches "as many games as [he] can." For Akiba, the Dodgers are more than just some baseball team. He said he cherishes "the camaraderie and brotherhood that everyone on the team has."
Being a fan has heavily impacted Akiba's life and relationships. When talking about the impact of being able to watch the Dodgers game with his dad, Akiba said, "It's something that has really bonded us over the years."
Another superfan at Pali, junior Pasha Zar, is a devoted fan of the Chelsea Football Club, a soccer team based in Fulham, Chelsea in London. When he first started to follow the team, Zar liked them because "their jerseys are blue." Since then, Zar has become much more passionate and has taken his enthusiasm to new lengths. "My mom kind of gets mad when I wake up at 4 a.m. to watch a game and scream at the TV," Zar said.
He does it anyway.
Sports seem to be a major part of the lives of many Pali students and teachers alike. Sports are something people watch for entertainment, but they can also have much more sentimental value. According to Zar, being a fan "allows me to feel a sense of belonging and family with people I don't know from around the world."
About the Writer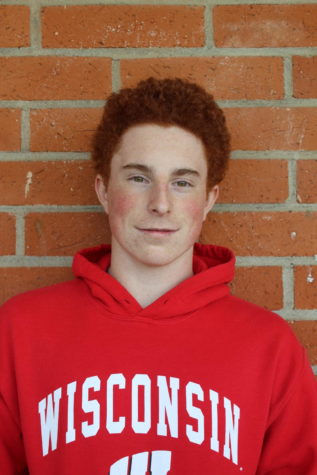 Brett Abrams, Staff Writer
Brett Abrams is a first year staff writer for Tideline. He is interested in football, film and most types of writing. Over the summer, Brett attended the...