Jane Nwaba's Journey to Division 1 Basketball
At the 2017 California Interscholastic Federation (CIF) Girls' Basketball semifinals, freshman Jane Nwaba had the game in her hands. The Lady Dolphins would advance to their third CIF final in a row if Nwaba could sink her free throws.
She missed. Pali lost.
Devastated, she vowed never to miss a free throw again. "I don't think I stopped shooting free throws that whole summer," Nwaba recalls. The hard work paid off.
Now a senior, Nwaba will continue her basketball career as a Division 1 player for Pepperdine University.
Pepperdine head coach Kristen Dowling says that, after multiple staff evaluations of Nwaba's game and an assessment of her character, she decided the player was a great fit for the program and made the offer.
Although the 5-foot-10 Nwaba is most comfortable playing small forward, she has played center for Pali's team throughout her high school career, averaging 10.2 points, 9.5 rebounds and 1.4 blocks per game in her freshman and sophomore years.
Nwaba says, "My main thing is to get rebounds, make my layups and shoot the jumpers." She says she performs best "inside the perimeter… but can shoot a three if necessary." According to Dowling, Nwaba's greatest strengths include her "size, athleticism, rebounding and desire to be great at whatever she does, academically and athletically."
Athletic genes run in Nwaba's family. Her older sister Barbara won the 2016 World Indoor Championships pentathlon bronze medal and made the 2016 U.S. Olympic team as a heptathlete. Her older brothers Victor and David both played basketball in college, and David signed a multi-year contract with the Lakers in March of 2017. Jane credits her siblings for her start in basketball, saying, "I chose basketball because the majority of my siblings play basketball and we always had a basketball [hoop] outside of our house, so… I just got addicted to it."
Nwaba continues: "In elementary school, all the boys would be playing and none of the girls would want to play because they didn't want to get their nails dirty… I would usually be the only girl playing, but I enjoyed it.
"From then on, I just started playing more in the summer and practicing… and then high school came, and I started to take it much more seriously."
Nwaba made an immediate impact on the Pali team during her freshman year, becoming the starting center and making the All-State underclassmen team.
The following year, she was hampered with injuries, and Pali struggled stringing together victories. "We lost all of our seniors… so we only had 10 girls on the team and only two of us on the team were returning," Nwaba says. "I ended up dislocating my finger in a game against Hamilton, so I couldn't play the last 10 games of the season."
Nwaba rebounded junior year, saying, "In sophomore summer I worked really hard trying to regain what I lost my freshman year." Her efforts were rewarded when she was selected the Division 1 Most Valuable Player and led the Pali team to a CIF title.
Nwaba's focus then shifted to college. She reached out to UCLA, Stanford and UCSB. Cal State LA, NYU and, of course, Pepperdine reached out to her. Dowling contacted Nwaba, set up a phone call and invited her to the campus for an official visit shortly thereafter. Nwaba was drawn to the scenery and setting of Pepperdine, as well as the atmosphere of the team, saying, "I think the coaches are really nice, and the girls are really nice." Nwaba says that her entire recruitment process took just two weeks.
Dowling said her plan for Nwaba is to focus "on strength and speed development," as well as "learning the system — offensive and defensive."
Nwaba is eager "to play basketball and to get the college life going.… I'm going to be living on campus. I feel like moving out of the house will be a big step."
Nwaba says she will major in either biology or kinesiology, with the goal of ultimately becoming a pediatrician. Her willingness to learn and her proven work ethic on and off the basketball court make her a great candidate for success.
About the Writer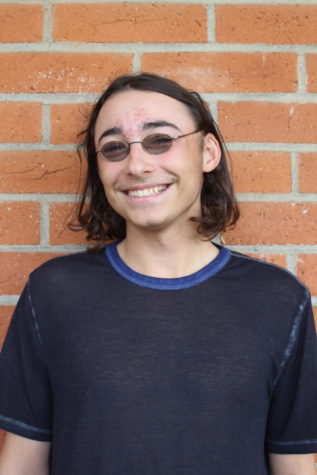 Atticus Parker, Editor-in-Chief
Atticus Parker is a senior and currently holds the position of Editor-in-Chief for Tideline. He worked as a staff writer in his sophomore and junior years...