Pali Seniors Commit To Colleges Around the Country
As if parents' jobs were not hard enough, every year come April, they must face the dreaded task of consoling their angsty, hormonally imbalanced, heartbroken children who were not accepted into their dream colleges. These pitiful teens inevitably fall into deep depression and soon embark on pathetic lives full of failure and missed opportunity.
However, this is not that story. The world is due for some good news and for these eight Pali seniors, their four years of hard work have actually paid off.
Hallie McRae, University of California, Berkeley
Pali's Human Rights Watch Student Task Force President Hallie McRae decided on the University of California, Berkeley (UC Berkeley) to continue her academic career. As an ASB Leadership representative, chair of the Social Justice League, violinist on the symphony orchestra, founder of the Student Climate Emergency Coalition and member of Congressman Ted Lieu's Youth Advisory Council, McRae has an extensive list of extracurriculars, which all tie in to her passion for social justice.
"To stand out from the tens of thousands of other applicants at the schools I applied to, I tried to have my most important qualities shine through in my writing," she says. "I had to show that I was not only a dedicated student, but one who would contribute something new to their community."
McRae says UC Berkeley stood out "due to its rich history and background of students fighting for issues they're passionate about." She says, "Especially in the 1960s, with the anti-Vietnam War protests, Berkeley rose as a leader in student activism and as a location where people could gather to fight for justice."
As a political science major, McRae hopes to "continue the legacy of those students and to have the opportunity to gather with similarly passionate people."
Connor Scott, Texas Christian University
Connor Scott will attend Texas Christian University (TCU) in the fall. TCU is located in the heart of Fort Worth, Texas, which Scott says is one of his favorite cities. He submitted seven applications in total, applying based on the location and the majors offered.
Scott founded the Punk and Metal Club at Pali, which he says "brought together people who otherwise felt like outcasts."
Though he says he had no extracurriculars, Scott distinguished himself by recounting meaningful experiences in his essays and showing how he "overcame tragedy and grief to become a better person."
Scott says he most looks forward to living on his own for the first time. While he has no specific career he wants to pursue at the moment, Scott will major in neuroscience at TCU's prestigious College of Science and Engineering.
Emily Bunnapradist, Stanford University
Emily Bunnapradist will be attending the renowned Stanford University in Palo Alto this upcoming fall semester.
Regarding her application, Bunnapradist says, "I tried to focus on activities that helped demonstrate my interest in a particular field or passion of mine." She did so through several summer internships and volunteer work at a local hospital. "I think that doing internships or different summer programs not only help differentiate you and show that you're being productive with your free time, but are also really fun and help you narrow down fields that you'd be interested in going into in the future," Bunnapradist says.
"Writing is definitely not my strong suit," she adds, "so going into the application process, essays were definitely one of my biggest worries." Because of this, she started early in the summer, which she says enabled her to get in the "right headspace" to write many drafts and finetune her application.
Bunnapradist says she is "excited and grateful for the privilege of being able to pursue higher education and have fun doing so." At Stanford, she looks forward to the "independence to choose your own schedule, prioritize what truly matters to you, and get to explore different fields that interest you, rather than be limited to the course selection in high school."
Elisa Kim, Brown University
Elisa Kim selected Brown University in Providence, Rhode Island to pursue her passions in biology and sociology with a concentration in health and human sciences. When deciding where to apply, Kim says she weighed the strength of each school's pre-health program and class size. "It was really helpful knowing which major I wanted to go into, since it heavily narrowed down my choices," she says. "I wanted to keep a small-ish class size, under 10,000 undergrads for sure, since I know I would have a hard time thriving in a huge school."
Kim has a vast list of extracurricular activities as well as academic and athletic achievements, which she said showcased her dedication and leadership skills. She is a member of Pali's cross country and track teams, ASB leadership class, KIWIN's club and Thirst Project. "[KIWIN's and the Thirst Project] gave me a sense of the large scale of the world and just how much of a difference high school students can make in the community," Kim says.
Kim started her essays mid-summer and wrote about "the most transformative moments in my life, where I had to grow up really, really fast in a short period of time." She says, "I was adamant that these moments were going to be included in my personal essay so that, if a college were to reject or accept me, they would be making that decision based on who I am beyond the numbers on my transcript."
With hopes of becoming a doctor, Kim says her ultimate goal is "to help make healthcare less dependent on socio-economic factors [and] accessible to all." She added, "I am looking forward to studying abroad, internships and anything that can get me closer to my dream job."
Alden Silvestre, Vanderbilt University
Pali's Fantasy Sports Club president Alden Silvestre will attend Nashville, Tennessee's Vanderbilt University this fall. With its remarkably low acceptance rate and rigorous academic programs, Vanderbilt has been dubbed the "Harvard of the South." To make himself a competitive applicant for the university, Silvestre worked as a tutor at Kumon, volunteered frequently at an animal shelter and spent "lots of time" writing his essays.
Silvestre says he applied to 24 schools, narrowing his list based on the size of the school, the quality of academics, the caliber of the school's sports teams and the social atmosphere.
With plans to major in either economics, history or Vanderbilt's touted Human and Organizational Development major, Silvestre wants to pursue a career in business. While admittedly excited for Southeastern Conference (SEC) football, Silvestre is eager to continue his academics at a school he considers "one of a kind… in many ways."
Serena Perl, University of Southern California
Enticed by its location, expansive networking opportunities and strong career development programs, Serena Perl selected the University of Southern California (USC) to continue her academic pursuits.
Perl applied to 14 different colleges, saying she wanted to attend a university "with a lot of school spirit, football culture [and] greek life," that was "also very strong academically." Though she initially wanted to go to school out-of-state, Perl was swayed as she took more college visits. "I decided that I needed to be in a big city like Chicago, NYC or LA," she says. "So ultimately, it didn't matter to me if I left California or not, as long as I was in a city I loved."
Perl was on a competitive crew team for three years and served on the state council of the California Association of Student Councils. She was the treasurer of the Thirst Project, which she says "helps aid the global water crisis and fund wells in impoverished countries."
As a communications major at the esteemed USC Annenberg School for Communication and Journalism, Perl hopes she will gain the tools and experience necessary to pursue a career in advertising. She says her ultimate goal is "to work in marketing for an entertainment company, or market major movie productions."
Caroline Bradkin and Elena Kilkowski, Tulane University
Both Caroline Bradkin and Elena Kilkowski will be attending Tulane University in New Orleans, Louisiana as marketing and public policy majors, respectively.
Bradkin was the president and founder of a community service club for a non-profit transitional housing shelter for women and women with children. She was also an officer for DECA — a non-profit student organization — and a member of Pali's cheer team. On her application, she says, "I didn't focus on 'standing out…' because I wanted to make sure I was being authentic and not writing what I thought admissions would want to hear."
Bradkin says Tulane "has a lot of really great facilities and students are given the freedom to study whatever they wish when admitted, so I'm excited for that flexibility." As a marketing major, Bradkin hopes to carve a path to becoming a marketing associate or chief marketing officer.
Kilkowski started her Tulane application early in the summer of 2019 and "spent months on it, making sure every aspect of the application was perfect."
"I was honest and attentive in my essays," she said. "I made sure to add all of my accomplishments to make me appear like a dedicated student, but not in a way to make me sound like I was bragging." Kilkowski volunteered frequently with the Starkey Hearing Foundation — a charity that provides free hearing aids to people in third world countries — and has traveled to Mexico, Brazil, Tanzania and El Salvador with the foundation.
"I am really excited for a fresh start in one of the most culturally diverse cities in the country," she says. "When I am older, I am looking to pursue a career involving community service, so I am optimistic about the connections Tulane can give me."
About the Writer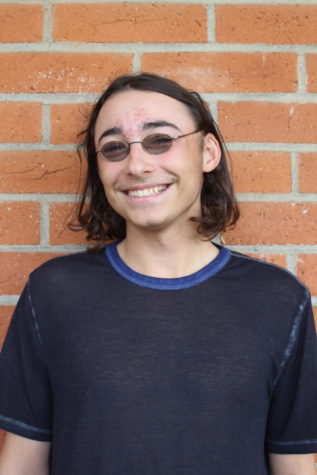 Atticus Parker, Editor-in-Chief
Atticus Parker is a senior and currently holds the position of Editor-in-Chief for Tideline. He worked as a staff writer in his sophomore and junior years...