Pali Mental Health Team Assures Students that 'You Are Not Alone'
According to the Centers for Disease Control and Prevention, COVID-19 affects adolescents both directly and indirectly. Beyond becoming physically ill from the virus, their social, emotional and mental health has been adversely affected by the pandemic. At Palisades Charter High School, a team of seven mental health practitioners has been working exceptionally hard to support students and their families during this unprecedented time.
The Mental Health team has been "extraordinarily busy," according to Ariel Schoolsky, licensed clinician, as the need for their services has compounded with the coronavirus pandemic. Schoolsky said that she and the rest of the Mental Health team are committed to providing a safe place for Pali students to be "seen, heard, loved and cared for."
Assistant Principal Mary Bush presides over the Student Support services at Pali. She oversees Mental Health, Psychological Services and programs for students with disabilities. "This is an amazing team," Bush enthused. "I feel so grateful and fortunate that Pali supports mental health. Our board, student body, faculty and administration has allowed this program to develop, which is what brought these wonderful people to our school." 
When Ruth Horwitz began working at Pali in 2015, she was the only psychiatric social worker. She is now joined by many, including Corrinne Ols, an intern, and Lynn Lim, a former Pali graduate who returned to her alma mater this year. "I want to be a cheerleader for kids," Lim stated, recognizing the importance of having adults on campus to support and advocate for students. Lim reminds us all: "You are not alone. We are all in this together."
Since its inception in 2012, the Pali Mental Health program has expanded over the last decade to include a variety of services, partnerships and collaborations. Currently, the team partners with the National Alliance of Mental Health, which visits classrooms to destigmatize mental illness; Our House Grief Group, which provides grief support services; the Los Angeles County Department of Mental Health, which offers therapy to qualified students; and the University of California, Los Angeles Rape Treatment Center, which provides support for students who are survivors of sexual assault.
Students can access these services by asking their academic counselor or a trusted adult at school for a referral. The Pali Mental Health team meets biweekly to review the referrals and provide support to these students. 
In addition, weekly social hours and support groups provide practical support to students and their families. Lupita Gutierrez, a school psychologist, is bilingual and beginning a mindfulness group this semester, called "Make it Mindful." According to Gutierrez, "You will have a safe space to practice mindfulness and leave with strategies to practice at any time."
Working alongside Gutierrez is Evelyn Alfaro, a psychiatric social worker. Alfaro stated that she is particularly motivated to serve in this capacity knowing that within the Latinx community, of which she is a part, mental health is often stigmatized. "Back when I was in school, I felt that I didn't have support, so I'm very excited to be here and be a positive influence on the students I work with," she said.
The Pali Mental Health team website, which was developed in the midst of the pandemic, serves not only as a virtual therapy office but also as a place where students can find additional resources they need, including games and other fun activities. The Pali Mental Health team is constantly trying to revamp the website to better serve the needs of students and their families.
The team had words of wisdom to offer to students during this challenging time.
"Mental health is not something to be ashamed about," Bush said earnestly. "We all have periods in our life where we struggle, and this time has been one of the hardest. You have dealt with fires, COVID-19, riots and social unrest. I can't imagine how hard it must be, especially as a student."
Schoolsky echoed her colleagues, saying: "We all have to be a little bit of our own superheroes, and that includes self-care, self-love and compassion towards yourself and others. There's a lot of care, love and support. We, the Pali Mental Health team, are a unified voice to say you are not alone."
About the Writer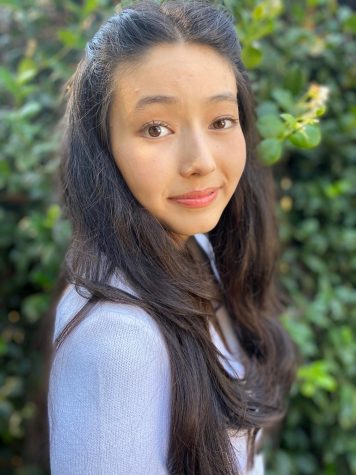 Serena Broome, Illustrator
Serena Broome joins the Tideline as a staff writer this year. Serena is a California Arts Scholar who advocates for human rights and social justice issues...