Classified Workers Stand Strong in the Face of COVID-19 Threat
When Pali campus aide Sean Brown's sister was diagnosed with a rare form of bone cancer three years ago, the doctors said she had six months to live. 
"Every time they counted her out and said, 'Oh, she's got six months, oh, she's got two months, oh, it's next week,'" Brown recalled. "But she's still here."
Finding inspiration in his sister's strength and determination, Brown hasn't let the hardships posed by the COVID-19 pandemic discourage him.
"That's the thing that keeps me from crying every day," he said. "When it's rough, or when I'm down, I just look and be like, 'What would she do?' I'll call her on the phone and she says something positive… and I'm like: 'Yep. I'm ok. I got this.'"
Brown has worked on-campus security for the last seven months of the pandemic. Although teachers and students have been forced to work virtually, some jobs can't be done remotely. Campus aides, like Brown, as well as security guards, office assistants, food service staff and facilities managers — workers known by the Los Angeles Unified School District (LAUSD) as "classified employees" — have continued to work at Pali for the better part of the last year, performing vital, sometimes under-appreciated services.
Brown is among 45 classified workers on campus who brave the threat of the coronavirus. Although their hours and shifts have changed during the crisis, their dedication hasn't wavered.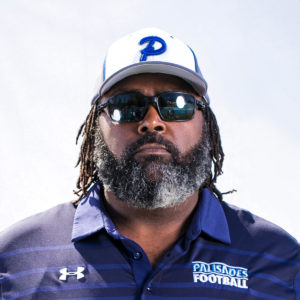 Classified workers could not work on campus from last March, when school first closed, until August, five months later. Principal Pamela Magee reported that all of Pali's office and campus safety staff returned to their regular full-time schedules by Jan. 11, but even a few months of missed part-time work can cause permanent financial damage and exacerbate an already difficult professional life for many employees.
The Pali administration followed the LAUSD model for reopening, which prioritized "safety" and "access," according to Donna Barrow, the Assistant Personnel Director at the LAUSD Classified Employment Services Branch.
Barrow, who oversees LAUSD's roughly 30,000 classified employees, said her team had to "rearrange how… the classified employees are working in this remote, virtual environment."
Her priority now is to get the classified workers back on schedule. "We want to make sure that those who can work are working," she said. "It's about our employees knowing that they are valued in their position."
During the fall semester, when full-time on-campus work was not possible, Magee said that the school made accommodations for the classified staff to work remotely when feasible.
Following the school's shutdown on March 13, Brown, along with the other classified workers at Pali, worked online doing whatever they could to get hours, eagerly waiting to hear from administration if they could resume on-campus work in the near future. 
Eventually, their wishes were granted. Most classified employees were on a limited schedule for the duration of the fall semester, working three-to-four days per week instead of five. Before the school's closure, another security company had worked the night and weekend shifts at Pali, but the administration managed to transfer those hours to Brown and his colleagues.
While the changing schedules and months of lockdown were hard on classified workers, Brown reported that the Pali community stuck together, exchanging hard-to-get cleaning supplies and reaching out through Zoom and Facetime to check in.
"We're just always looking to see if there is any way to assist each other, or help each other out, just doing anything we can do," Brown said. 
Even though he is often alone during his shifts, Brown said that his "Pali family" rallied to offer support.
"It's just that community thing of trying to help each other out, knowing that we're all going through this," he said. "What can we do but be a little nicer and… a little more of a help to each other?"
Representing the administration, Magee worked around Pali's pandemic-induced financial crunch, a situation she explained initially led to three classified employees receiving layoff or furlough notices. Eventually, two were asked back but had chosen to accept employment at other companies or schools.
Those who continue to work at Pali are doing their best to manage the situation. Brown often works the night shift and said the schedule has been psychologically onerous. 
"Literally there was some point where I was just like: How much longer can I keep doing this?" he said. "Because my kids are at school during the day, and my family's at work during the day, I don't see anybody during the day. I sit around all day waiting to go to work to sit around again for eight-and-a-half more hours without contact." 
To rack up as many part-time hours as he could, Brown frequently worked back-to-back night and morning shifts last semester. During most nights he said he returned to his Downey home at 11 p.m, then woke up at 6 a.m to leave for work again, erasing all possible family time.
"That's what we do to make sure we get as many days as possible," he said, "so we can't be picky about shifts."
Still, Brown holds his head up.
"The small time that you have, you make the most of it. Don't complain about it, just be thankful that you got it and that you got your family and that you got your health," he said. "None of us ever thought we'd be dealing with this, but we're getting through it."
His sister's powerful example and his own philosophical outlook have focused him on gratitude.
"We all think that life is just so rough and that we can't get through it," Brown mused, "but we never know what the next person is going through, or what the next person is dealing with, that is just so much more tragic or so much more deep than what we're dealing with."
Brown and other aides completed safety training over the summer and are back on campus Mondays through Fridays, performing mandatory COVID-19 screenings and enforcing safety guidelines. As a self-identified "people person," Brown is eager to see students and staff again, but he understands the risks.
"I don't want to rush back just because I want to see you guys," he said. "I want it to be safe for all of us to do it, so if that means that we have to take baby steps to go back there, then so be it."
About the Contributors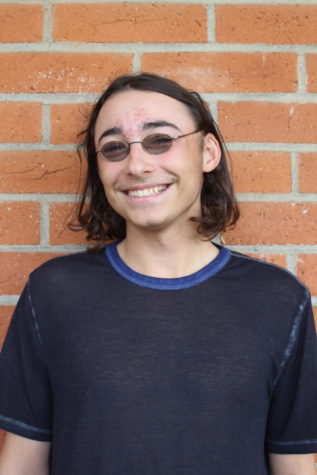 Atticus Parker, Editor-in-Chief
Atticus Parker is a senior and currently holds the position of Editor-in-Chief for Tideline. He worked as a staff writer in his sophomore and junior years...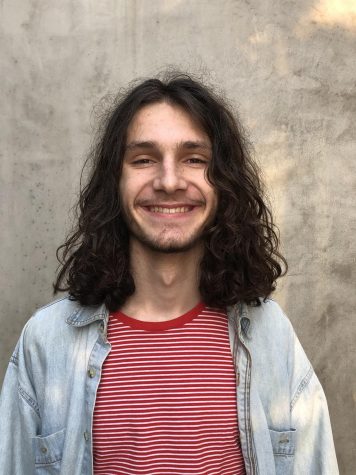 Philip Venkov, Illustrator
Philip Venkov is an artist, graphic designer, and mostly functioning human being. He runs track, too.