Schoology: Homework, Grades and Blogs?
It was fall 2019 when sophomore Alexander Svendsen-Conn discovered Schoology's blogging feature. 
"In ninth grade, mostly during English class, I would find myself messing around with the different features of Schoology, exploring some of its lesser-known parts," Svendsen-Conn said. "That eventually led to me blogging and looking at other people's blogs." 
Schoology, Pali's virtual platform for announcements, student-teacher communication, assignments and grading, has long had a blogging feature, but it's COVID-19 isolation that seems to have driven increased activity to the platform in the last year. 
A small community has flourished on a website known for practically anything but student discourse.
Freshman Jack Hesse started blogging last September, seeking to make connections with his peers during the pandemic. Most freshmen, in fact, have not spent a single day on the Pali campus, motivating some to seek online friendships until the in-person kind are accessible.
"We're stuck in this bubble," Hesse said. "I feel like [freshmen] don't meet any sophomores and juniors, and the Schoology blog helps."
Though sophomore Leon Akhavan didn't experience those same freshman struggles, he has used the platform to express his own frustrations with pandemic-induced social isolation.
"How many experiences have I missed out on?" he asked in a March post. "How many friendships never occurred? Relationships? Life lessons? Unforgettable experiences? We've all been inside for basically a year, and I can't help but think of how much we've missed out on because of it."
Akhavan started his blog freshman year to record his high school experience. 
"I thought it'd be really cool to have a collection of all my thoughts throughout high school," he said. "When I'm graduating I can see…everything I've done throughout high school: my thoughts, my personality, my humor, and how it's changing and evolving."
Though one might expect most blogs to be similar, Pali's crop is truly all over the place.  
"I'd say [my blog is] satirical, but some of the posts I think are very insightful," junior Layla Chammas said. "I like to give updates on my day… I do a lot of rankings and ratings." 
Sophomore Caspar Turner generally posts sarcastic gibberish, but he has found that other subjects garner more interaction. 
"Usually when I post something more serious, it gets more attention and more comments… I like to get responses to [my posts]."
For Akhavan, it's about relatability. 
"Mine is mostly serious but in a humorous way," he said. "My favorite kind of thing to post is stories about school because I know people will see that and be able to relate to that."
Hesse is a self-proclaimed "slice of life" and "gaming" blogger. "I like to post bi-weekly updates and shorts," he said. 
Some bloggers, including Chammas and Hesse, post mostly about their personal lives, while others opt for a different approach. Sophomore Brady Hall has a post reading, "SOMEBODY KJUST THREW A PUNMPKIN THROUGH MY WINDOAW AND IT EXPLODEDA ALL OVER THE FLOOR GGGGGGGGGGGGGGGGGEEEEEAAAAAAAAAAAAAAAAAAAAAAAAAAAAAA." 
Of course, as in any online community, there is drama. "There's a group of sophomores who are very dedicated to blogging as well, and [my friend and I] were confused when they were commenting on our blogs, so we started a feud with them," Chammas said. "Some of my posts have like 50 comments, just us going back and forth." 
Another feud began on April 8, when Svendsen-Conn accused Akhavan, Turner, Hall and sophomore Lucas Goldy of being communists.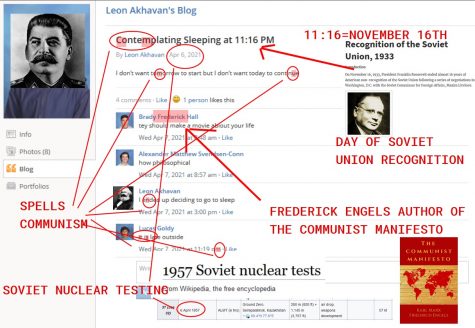 In good fun, Akhavan shared a screenshot of a YouTube video the next day, with two tabs reading "Manifesto of The Communist Party" and "How To Overthrow A Government." 
The community was roused on Oct. 10, when Assistant Principal Monica Iannessa posted a puzzling update on Schoology that simply read, "Ready, Set, Go!" Akhavan took the opportunity to offer his unsolicited feedback on virtual learning. 
"The only thing I am READY and SET to do is to GO waste my time… completing an unholy amount of homework," Akhavan commented. Other students joined him in denouncing school policies with an outpouring of their own unsolicited criticisms. 
The update can no longer be found on Schoology's Announcements page, but it was commemorated in an Oct. 12 post on Akhavan's blog, titled, "I started a mutiny." 
Perhaps Pali's greatest Schoology controversy arose on Sep. 9 in the middle of the night when the Fashion Club's Schoology Group was hacked, allowing students to post joke assignments and spam its message board with raunchy comments. Students created a fictitious club event called "Regular Show Roleplay Club" and discussion boards named "FELLOW FEMBOYS" and "What Is Poggers?" among other inappropriate material posted that night. 
It is alleged that these transgressions were frowned upon by the Pali administration, but Schoology bloggers declined to comment.
Unlike other social media, Schoology is an intimate community where follower counts rarely exceed the low three figures. Akhavan, called "the king of Schoology blogging" by Hesse, worked hard to earn his whopping 143 subscribers, the most of any Pali student.
"I just asked people in my classes, friends-of-friends," Akhavan said. "I messaged people [on Schoology] and anyone who had access to a Palisades Charter Schoology account and I would ask them to subscribe." 
Turner, who is the second most-subscribed-to blogger, is next in line to the throne with 70 followers. "I have asked a few people [to follow me], but [I haven't made] a concerted effort," Turner said. "I'd say my goal is to surpass Leon."
Though there are dramas and feuds, smear campaigns and follower races, it seems that this little corner of Schoology has become a source of solace during this difficult time.
"That's kind of the whole purpose of Schoology blogging, the irony of it all," Akhavan said. "Schoology is a school platform meant for grades and schoolwork, so using it for a blog is a funny thing."