A Heroic Tail: Pali Junior Helps the Less Fur-tunate
While other students spend their weekends hanging out with friends or lounging in bed, Pali junior Emily Schwartz traverses Los Angeles retrieving cats from attics and removing kittens from glue traps. Founding her own feline rescue organization in early 2020, Schwartz is hoping to be a cat-alyst for change in her community.
LA Kittens, Schwartz's organization, consists of 15 independent volunteers who have set out to rescue homeless and neglected kittens. Schwartz partners with local organizations, such as Westside Whiskers and the Stray Cat Alliance, to take cats out of kill shelters and put them into permanent homes. 
Since the group's inception, Schwartz and her team have rescued more than 400 cats. Currently, LA Kittens has around 40 cats in their care, 15 of which are ready and waiting for a new home, Schwartz reported. The remaining 25 cats must stay under Schwartz and her team's care to receive medical treatment until they are considered healthy enough for adoption. 
Although Schwartz does not own any kittens herself, she often hosts a bedroom full of cats, the isolation necessitated by her sister's allergies. She has personally cared for 103 cats, and at one point, had 16 cats roaming around her room at the same time.
"It was a crazy couple of weeks," she said about her time with her 16 furry friends. "I'll never do it again."
Schwartz's passion for kitten care began when she was in fifth grade when she and her family fostered two kittens, found them homes and got them adopted. But it was not until October 2018 that Schwartz thought starting her own organization was a paw-sibility.
"In ninth grade when the fires happened… the shelters were overwhelmed and were having to put down a lot of animals because of how many were coming in each day," Schwartz said. "I reached out to the person I had worked with in elementary school… and I started taking in super easy older kittens feeding on their own."
Her journey continued as she completed cat care courses, learning more about bottle feeding and rescuing cats. As she became more involved, local rescuers began to reach out to her and before she knew it, she catapulted into a new position as an organization founder.
However, rescuing these cats hasn't been all purrs and cuddles. Schwartz maintained that it's an intense and difficult process that often ends in tragedy.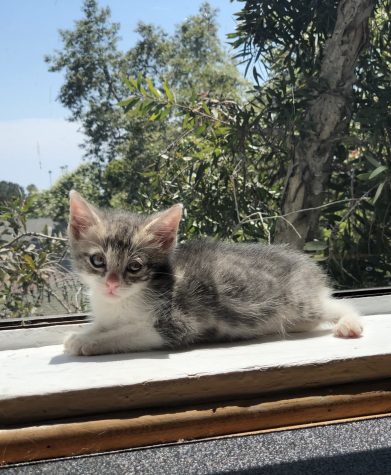 Last June, she was sent a Craigslist post that featured a neglected kitten named Jelly Bean who weighed about 200 grams, roughly the same weight as an iPhone.
"His eyes were sealed shut with crust. It was disturbing. He was extremely emaciated. He lived in my incubator for about two weeks," she said. "There was a long period I would say like a month where I thought he had no eyes… It wasn't until like a month later he started improving and gaining weight that I felt like [I saw]  a little sliver of an eye and I freaked out." 
After his recovery, Jelly Bean was placed with five other rescue kittens, all of whom contracted panleukopenia, a rare disease that depletes white blood cells. Jelly Bean was the only cat out of the group to survive the outbreak. 
Despite the difficulty and loss involved with the job, it's stories like Jelly Bean's that keep Schwartz going.
"Jelly Bean would not survive without all the care he got," she said. "So I would say the most rewarding part is knowing that I've kind of given these guys another life."
Check out lakittens.com to find out how to donate or adopt, and visit @emilyrescues on Instagram to follow Schwartz's journey.