Students Appreciate Mr. Cohen's Engaging Personality, Unique Approach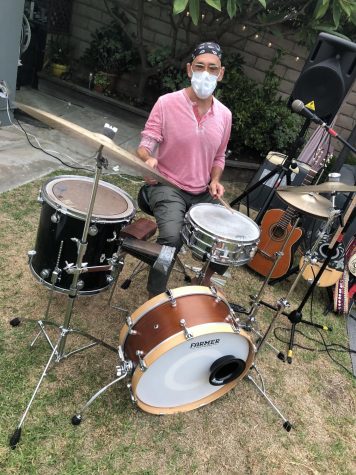 Ronnie Cohen has been a teacher at Pali and a mentor to his students in and out of the classroom for more than two decades. Cohen teaches AP English Literature and Composition to seniors and Honors English to sophomores. Recently, he has begun teaching a Hebrew class through the Back To Campus afternoon program.
Cohen has been to many schools across the globe, including UC Santa Barbara, UCLA, Berklee College of Music, Hebrew College, Columbia University and Tel Aviv University. At first Cohen said he wanted to be a musician, but his mother convinced him to get a different college major and do music as a hobby. This led him to switch majors in his junior year to English literature.
Cohen's first job out of college was a journalist for The Ocean Front Weekly in Venice Beach. Although he fondly remembers that "it was a great job," Cohen soon quit in favor of studying the drums with famed jazz drummer Alan Dawson. He eventually moved with Dawson to Boston to pursue his musical passions. There, he taught at a private college and played professionally in New York on the weekends.
Then in 1999, he moved back to California because of his family and pregnant wife. He then taught at Taft High School and then went on to work at Pali to be closer to the ocean and enjoy an active lifestyle. Cohen says that if he is "not writing, or behind a drum set, [he doesn't] like sitting." When he isn't doing either of those or teaching, Cohen could be found watching his favorite basketball team, the Clippers, watching the NBA YouTube, reading, open ocean swimming, cooking or playing the drums with different people.
At Pali, Cohen said that he found that being a teacher matched his extroverted and helpful personality, and got to know many teachers and students as a result. Makena Gichuru, a senior in Cohen's AP English Literature and Composition class, said that Cohen's eccentric and easy-going style has made her "enjoy his class a lot more." Throughout the past two semesters, Gichuru has come to appreciate how Cohen openly speaks his mind and "is very genuine in all that he says and does." Gichuru also highlighted how Cohen's "engaging teaching style makes even the most advanced curriculum feel easy and entertaining."
Sophomore Levy Shaked, a student in Mr. Cohen's 10th-grade Honors English class, agreed with Gichuru, stating, "After only minutes on my first Zoom with Mr. Cohen, I knew I was about to learn in a unique way that I had never experienced before." Shaked described Cohen as a bubbly and enthusiastic teacher who makes the "seemingly dreadful online school enjoyable and engaging." Cohen frequently holds debate sessions for students to discuss topics and creates a positive environment wherever he goes, Shaked said. "Mr. Cohen genuinely cares about how his students feel and is receptive to any beliefs or ideas we may have," he added.
Both students say that Cohen is a "true one-of-a-kind person," as Shaked put it, and expressed their gratitude for having him as a teacher.
Randy Tenan-Snow, Cohen's close friend and colleague, also has nothing but praise for Mr. Cohen. "Mr. Cohen is an honest, genuine, and creative spirit," she said. "He is trustworthy and caring and kind."
Tenan-Snow explained that once after Cohen had parked in front of her house on the way to go surf with his son, Tenan-Snow ran into him and the two just "connected." From that day forward, for almost 18 years, they have been friends both in and out of school.
Cohen's bright personality and unique teaching style has caused many students to enjoy and endure online schoolwork. People around him all say that he is "welcoming, kind, well-read, and genuine" and all appreciate how he truly cares about everyone's ideas and feelings. Gichuru said that "Mr. Cohen is a great teacher and anyone can tell that Mr. Cohen loves what he does and truly wants his students to benefit from his class."