Fact or AP Cap?
Some Pali Students Concerned about Proposed Policy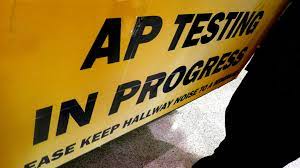 First introduced to high schools in 1955, the Advanced Placement (AP) Program was designed to give high-achieving students the opportunity to take introductory-level college courses. Many high schools add extra points to students' Grade Point Average (GPA), and some colleges award credit for passing exam scores. 
Since their introduction, AP classes have become integral parts of the college admissions process, and many high school students' lives. However, with the rates of depression and anxiety in high school students on the rise, many people began to investigate the negative effects of taking too many of these demanding courses. 
Pali administrators are hopeful that a schoolwide AP cap would help improve students' mental health by preventing them from over-working and creating a less competitive academic environment. 
Recently, Pali has started to plan a new proposal limiting the number of AP classes students are able to take based on grade level. With this new policy, sophomores would be able to take one AP class, while juniors and seniors would be able to take up to three AP classes. 
Despite the reasoning, this AP cap would deprive students of the choice to take more rigorous classes and limit their opportunities to raise their GPAs and prepare for college. 
The Centers for Disease Control and Prevention states that between 2009 and 2019, there was a significant increase in the rates of high school students who had persistent "feelings of sadness or hopelessness (26.1 to 36.7 percent), having seriously considered attempting suicide (13.8 to 18.8 percent) and having attempted suicide (6.3 to 8.9 percent)." A study done by researchers at the University of Southern Florida found that competitive academic environments were the probable cause of these trends.
Many Pali students said that they have also noticed similar negative impacts from these AP courses. 
Sophomore Claire Kim said that she "know[s] a lot of people who struggle with mental health because they're getting bad grades in [AP] classes." 
This simultaneous deterioration of mental health and unequal access to AP classes, prompted many high schools across America to limit the number of AP classes students are able to take or to eliminate the AP curriculum entirely. 
Sophomore Amrita Sekhon said she believes that the cap would be beneficial, mentioning that it would help students "who just have too much stress and too much anxiety [from AP classes]" because there is "too much work and not enough time." 
Despite these benefits, restricting the number of AP classes a student can take would prevent many students from taking as many difficult, in-depth classes as they desire. 
"Pali caters to a diverse student body that is capable of more than 3 APs," sophomore Carter Yean said. "We should be allowed to take as many APs as we want without anything hindering our aspirations."
Restrictions on classes may also detract from a student's college application. During the college admissions process, many selective colleges have begun to put a high emphasis on the difficulty of classes that students take. For example, according to an article from the Los Angeles Times, students who are accepted to highly selective colleges, such as Ivy Leagues, UCLA and UC Berkeley,  "take about eight AP classes throughout high school, though that number can range from five to 13."
In addition to restricting the number of challenging classes available to students, an AP cap would also limit the amount of bonus GPA points they could garner. AP classes give students the opportunity to increase their weighted GPA, which many students want in order to increase their chances of getting into their desired college. However, Pali student leadership representatives explained in a Feb. 23 student concern meeting that if an AP cap were to be put into effect, colleges would be informed of this policy. Many colleges have also stated that they compare applicants relative to others of the same school so that students would not be put at a disadvantage due to their schools' grading policies. 
"We look at the school's resources," UCLA's website reads. "We compare an applicant's achievement to those of others in the same high school…These applicants are likely to have similar opportunities to achieve."
Regardless, the number of AP classes a student takes continues to be an important part of the college application process. According to UC Berkeley, "the number of college preparatory, Advanced Placement (AP), International Baccalaureate (IB), honors and transferable college courses you have completed" is taken into consideration when looking at applicants. 
"I did sign up to take four APs [next year]," Kim said. "Part of getting into college is standing out, and one of the only ways that students can stand out is by taking more AP classes."
Taking more AP classes also allows students to explore a wide range of topics at a more advanced, in-depth level than they would in regular or honors courses. The heavy workload can provide valuable experience of what it's like to take college courses for students. According to the College Board, "AP students, including those with average scores of one or two, are more likely to enroll in a four-year college." A study done by the College Board in June 2021 found that AP students who earn a two on the exam earn a higher GPA on average in introductory college courses compared to academically similar students in 15 different subjects. 
Currently, Pali's AP agreement and AP policy forms inform students of the rigorous curriculum that AP classes follow. Many AP teachers also require students to have a teacher recommendation or attend informational meetings before being able to take certain classes. Furthermore, students must notify their counselors about the classes they plan to take before being allowed to enroll in them. 
Rather than limiting academic opportunities, more can be done to assist the students who are taking these difficult classes.
"You can offer people who are taking more APs guidance or more [counseling] or something like that," Kim said, explaining that more support for AP students would also be beneficial to their mental health. 
With clearer communication between teachers, counselors and students, students would have a better understanding of the difficulty of AP classes.
"I think it's parents, counselors and most importantly the student's responsibility to know how many AP classes they're capable of taking," Yean said. 
The stress that high-pressure academic environments place on students is undeniable. However, rather than taking away the opportunity for students to enroll in the classes that they desire, providing them with the correct resources and information will allow students to balance taking high-level courses and their mental health.