Gotta Catch 'Em All: Pokémon GO takes over Pali Staff
Catching your first Charmander gives you the thrill and adrenaline of joining a hip virtual reality game — the Pokémon world. "Pokémon GO" has captured the attention of many at Pali, as various students and teachers have succumbed to the frenzy and chosen to follow Ash Ketchum's, the protagonist, path to becoming a Pokémon master.
"Pokémon GO" was released on July 6 and requires players to use their phone to capture Pokémon and level up by participating in battles, collecting items and evolving Pokémon. Players can become expert trainers in ways such as going out for group walks, making new friends and organizing team raids. Despite some controversy — such as being banned in some countries, causing trespassing among players, to discovering dead bodies — around the game, it still has over 23 million daily players, according to App Institute.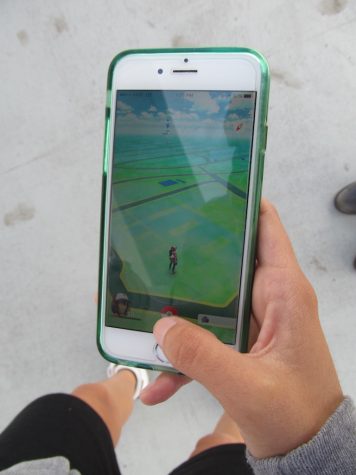 These players, however, are not only young trainers raving about the excitement of "Pokémon GO," but are also Pali High teachers enjoying the simple yet complex way of the game.
"I play 'Pokémon GO' because it's complicated and the plot line is like a puzzle," Ms. Jamie Agius, a chemistry teacher ranking at level 25, said. "I like chasing after Pokémon and making decisions as to which Pokémon are the best to evolve and how to spend my stardust."
Agius values the rigor of the game. "It's also challenging. I'm always looking forward to new things to discover. My boyfriend and I walk all over the place to find Pokémon. I actually found a bunch of Pikachus at the Grove!"
Agius continued by saying that her introduction to "Pokémon GO" came from her students. Given the student interest in the game, Agius and counselor Ms. Heather DeWeese decided to learn how to play it. "We'll have common ground with our students," Agius said.
She is not alone in the Pokémon craze. Mr. Steve Klima, an AP®  Language teacher (level 17) also ventures in the game, along with Mr. John Vieira, an AP® Biology teacher (level 24).
"I started playing it because my sons were playing it the day it came out and I really wanted to see what the game was all about," Klima said. "I like the the camaraderie between my sons and going places I don't normally go. Over the summer we went on the Expo line just because there were so many Pokèstops there."
While some play to understand what their children are raving about or to have a better connection with students, others play for the sheer enjoyment.
"[I play for] the same reason I used to collect comic books and stuff," Vieira said. "I like to collect things and, being the geeky guy I am, I like to play video games and Pokémon GO is born from those things, combined in one game."
It's no surprise that teachers are using Pokémon GO, whether it's with their kids or for their own pleasure. According to the App Institute, there are more than 4,000 downloads of Pokémon GO worldwide every minute, and it's the most previously downloaded app in comparison to other well-known applications such as Facebook, Twitter and Instagram.
The universe is turning into a Pokémon menagerie and the real fun comes from explorations. Pokémon GO is a completely different beast on the cusp of something immense: augmented virtual reality. It's inspired many people to explore their neighborhoods, travel to historical landmarks and kayak to the middle of a lake (to defeat a gym leader). The game has spurred a thirst for expeditions and social gatherings. Pokémon GO is surely taking over the world, one pokéball at a time.