Fighting for the Field
Hang on for a minute...we're trying to find some more stories you might like.
Pali's Stadium by the Sea—one of the school's greatest prides—is home to several athletic teams that represent the school. The field teams include Football, Boys' Soccer, Girls' Soccer, Boys' Lacrosse, Girls' Lacrosse, Track, Cross Country and Softball, along with the Marching Band and Color Guard. With practices and official matches taking place at almost any given hour after school, it's likely that at least one of these teams is occupying the field. All of these teams have performed extremely well in both their league matches as well as CIF Championships this past season as well as the many seasons prior. In comparison to many of the other LAUSD public high schools in the Western League, Pali's field is seen as one of the best — but looking at the athletic facilities of private schools in Los Angeles, or even Southern Section schools, there is a substantial difference.
For one, many of these schools have multiple fields to accommodate the number of sports teams that require field space. Redondo Union High School, part of the Southern Section, boasts two indoor gyms, a swimming pool, a track, a golf practice course, a wrestling room, two weight rooms, volleyball gyms, and separate fields for football, soccer, softball, baseball, and lacrosse. The availability of so many facilities ensures that each team has their own designated space to train and compete, and the benefits are evident. According to Niche.com, the Redondo Seahawks have been ranked the fifth best high school athletic program in California.
Although Pali sports teams are no stranger to either league or CIF victories, it is still clear that Pali's relative lack of sufficient athletic facilities can get in the way of student athletes and their training. Alyssa Wallin, a junior on Pali's varsity Softball team, laments her team's extremely limited practice time and space.
"During the time of the winter/spring season overlap, there are at least three teams that practice on the field and this definitely conflicts with our practices," Wallin said. "In the month of February we have to drive to the Palisades Park in order to get any real practice. After the winter season is over, field time is still an issue because we only have the field from 2 p.m. to 4:30 p.m. and then lacrosse takes over right away."
As any varsity-level athlete knows, an hour and a half is hardly enough time to get a substantial workout and a solid practice, as dressing, warm-up, and cool-down can often take away valuable time.
Another major issue with the amount of teams vying for time on the field is the conflict between coinciding matches.
According to Georgia Calvert, a junior on the varsity Girls Soccer team, "Just last week the Girls Lacrosse game, which was supposed to be at 3 p.m., got pushed back to 5 p.m. because my team, and other teams, needed the field to practice. During our tryouts in September, when the football team is still practicing, we have to use the baseball field. That's mostly just dry clumps of grass."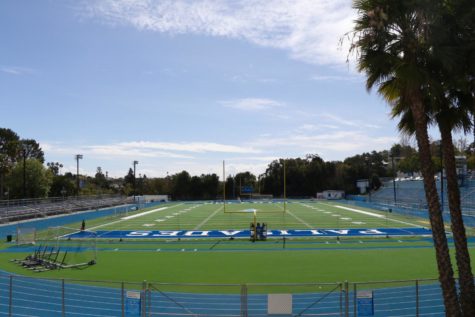 About the Writer
Hannah Yick, Design Editor
Hannah Yick is serving her second year in Tideline as Design Editor after previously working as a staff writer who wrote mainly in Opinion and Sports....