Taylor Swift: Lover or Hater?
"I'd be a fearless leader / I'd be an alpha type / When everyone believes ya / What's that like?"
In "The Man," the fourth track on Taylor Swift's new album, Lover, Swift compares male and female experiences in the music industry and points out the sexist double standards to which female artists are held.
This tends to shape how artists like Swift are portrayed in the media. Many people, especially teenagers, have strong opinions regarding mega-star Swift — most either love her or hate her — and the rest don't particularly care.
For those who have grown to dislike Swift over the course of her 13-year career, their distaste is largely fueled by the long list of breakup songs that accompany her long list of ex-boyfriends. Junior Ava Ruggiero believes Swift's love life is portrayed as excessive, saying, "It's a lot…she's just going from guy to guy to guy." Swift comments on this widespread opinion of herself in "The Man," pointing out that she would be viewed differently if she were a male artist: "What's it like to brag about raking in dollars / And getting b*tches and models / …If I was out flashin' my dollars / I'd be a b*tch not a baller." In Lover, Swift proves she is done trying to live up to the double standards of the industry. "I'm so sick of running as fast as I can / Wondering if I'd get there quicker if I was a man," she protests in the chorus. These lyrics ring true to many frustrated female artists and women in other professional fields, demonstrating Swift's increasing ability to be relatable and speak up about prevalent issues in today's world.
Over the past year, Swift has become progressively more outspoken about human rights and political topics. In 2019, she has been especially vocal about equality and LGBTQ+ rights, wearing rainbow outfits during her Pride Month performances and voicing her support on social media. Following her pattern of calling out haters, Lover's 14th track, "You Need to Calm Down," is an upbeat denunciation of homophobia, with Swift cheerfully shutting down bigots. She cleverly references the Gay and Lesbian Alliance Against Defamation (GLAAD), Pride parades and homophobic counter-protestors, directing her words toward the haters of the LGBTQ+ community: "Why are you mad / When you could be GLAAD? / Sunshine on the street at the parade / But you would rather be in the dark age / Just makin' that sign must've taken all night." She closes her argument by declaring that "shade never made anybody less gay."
According to junior Oona McDermott, president of Pali's Gay-Straight Alliance, Swift speaking up as an ally of the LGBTQ+ community is incredibly important. "It's always really good for the straight community to be a part of educating people and in general being supportive of the LGBTQ+ community, because the queer community can't do it on [its] own," McDermott stated.
Although Swift identifies as straight, she is a fierce advocate for equal rights. At the end of her "You Need to Calm Down" music video — featuring drag queens, activists and LGBTQ+ personalities — the link to Swift's change.org Equality Act petition is displayed. The Equality Act, which McDermott deems "incredibly necessary," would prohibit discrimination on any account; it was passed in the House of Representatives and now awaits action in the Senate. During Swift's performance of "You Need to Calm Down" at the 2019 MTV Video Music Awards (VMA), the words "Equality Act" appeared again. In her acceptance speech for the fan-voted Video of the Year — which she won for "You Need to Calm Down" — Swift recognized that "voting for this video means that you want a world where we're all treated equally under the law."
Although many Pali students, including Ruggiero, are unaware of Swift's recent advocacy, her message still reached the millions of viewers who watched her VMA acceptance speech and the 560,000-plus people who have signed her petition. When asked if she believed Swift's efforts were beneficial, McDermott stated, "Because she has such a big audience, she is helping to an extent… I don't know how much the Senate cares about what Taylor Swift says, but I think she's doing a good job with spreading awareness."
Being outspoken about activism and politics has become the new norm for Swift, who infamously stayed quiet during the 2016 presidential election between Hillary Clinton and Donald Trump. Swift's attitude changed by the 2018 midterm elections as she finally revealed her status as a Democrat and endorsed Democratic candidates Phil Bredesen and Jim Cooper from her home state of Tennessee. She encouraged her fans and Instagram followers to go out and vote, leading to a nationwide spike of 65,000 voter registrations within 24 hours of her Instagram post.
Swift's politics have extended to her music as well; the seventh track on Lover, "Miss Americana & the Heartbreak Prince," acts as a subtle reference to America's current political climate and the 2016 presidential election. She recently revealed the song is "set in a metaphorical high school" that represents the state of politics and inequality in the United States. "Miss Americana & the Heartbreak Prince" is neither the first nor the last track on Lover that tackles issues larger than those of romance or drama.
Two of the sweetest and most heartwarming songs on Lover, "Soon You'll Get Better" and title track "Lover," provide a rare glimpse into Swift's private life. In "Soon You'll Get Better," Swift directly addresses her mother's battle with cancer for the first time in her music. She takes her emotional transparency to a new level in "Lover," singing about her wholesome love for her boyfriend, Joe Alwyn. The music video features Swift and her longtime backup dancer Christian Owens as an interracial couple; the video follows their characters' love story and growth through rooms in a snow globe, ending with them gifting the snow globe to their daughter for Christmas. Swift's music reaches new raw and emotional depths in her latest album, highlighting her personal growth and emotional maturity.
Swift's recent success with Lover shows that she is not slowing down any time soon. Overnight, it became the best-selling album of 2019 in the United States and secured the most first-week sales since her previous album, reputation. All 18 songs from Lover charted on the Billboard Hot 100, a new record for a female artist. Then, with "Lover," she officially tied Elvis Presley for the 10th-most top-10 songs for an artist. Lover then rose to the first spot on the Billboard 200 chart as the No. 1 album for the week of Sept. 7.
Lover's success continues to prove Swift worthy of her stardom and her status as the world's highest-paid entertainer. Not only does she use her platform for advocacy but also for the opportunity to improve the lives of her fans; she has gifted thousands of dollars to fans who struggle with crippling student debt, and she most recently donated $10,000 to the GoFundMe page of a 16-year-old fan suffering from a rare form of bone cancer. Regardless of any opinions on her music, it is Swift's actions that define her character.
Sophomore Zack Weiss is adept at separating Swift's persona from her work, declaring, "I don't mind her as a person, but her music is garbage." Ruggiero takes a different approach, acknowledging that Swift's talents as a lyricist are undeniable but that she "just hate[s] the sound." She admits a Taylor Swift song cannot be found on her phone, though she remains a fan of the popular "old Taylor."
Freshman Frances Spencer-Shapiro agrees that country music era Swift was more likable, admitting, "I feel as I've gotten older and as she's gotten older, she switched into a different phase… I think a lot of people are with me when I say that I wish she would start making music the way that she used to." However, Spencer-Shapiro acknowledges that Swift's talent justifies her recent success.
Though Swift reportedly lost fans after her transition into the pop music scene, she and her new music continue to take the world by storm; her existing fan base of Swifties remains loyal to the point of obsession. Swift recognizes that her fans have brought her to where she is today and gives back by constantly engaging them with exclusive fan events, gifts and secret videos. She uses her platform to better people's lives and to speak up for women in the workplace, the LGBTQ+ community and America as a whole. She may not be an alpha type, but there is no denying that Taylor Swift is a fearless leader.
About the Writer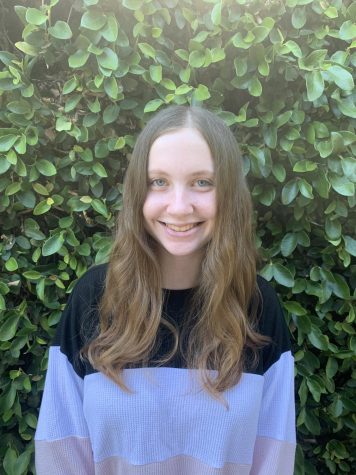 Eliana Feinstein, Editor-in-Chief
Eliana Feinstein first joined Tideline her junior year and fell in love with the journalism class, appreciating the freedom of being able to pursue and...