Pali Drama Shines at DTASC Festival
At this year's Drama Teachers Association of Southern California (DTASC) spring Shakespeare festival, Pali students snagged five awards and two honorable mention titles across both acting and set design categories.
DTASC holds an annual Shakespeare festival every spring to celebrate the birthday of playwright William Shakespeare and to bring together young actors and set designers from 65 schools across Los Angeles county. However, for the first time in the event's history, the festival took place virtually. 
Pali competed in a total of nine categories, preparing monologues for the acting categories and creating set models and publicity plans for the set design categories.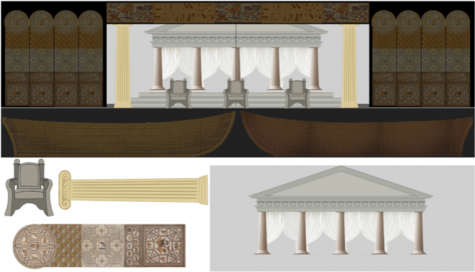 Pali's acting submissions placed in three categories, receiving second place for "Characters in Disguise," third place for "Antony and Cleopatra" and fourth place for "Much Ado About Nothing." The set design team also triumphed, placing second in "Sets & Lights" and fourth in "Graphics & Publicity." 
As part of the proceedings, the set design team selected one of Shakespeare's most well-known plays, "Antony and Cleopatra," to base their designs around. The team was tasked with creating three set designs and a publicity plan for the play as if they were putting on a real production. 
Once completed, they had to film an eight-minute video presenting their final design ideas to submit to judges via email.
Sophomores Mattie and Emma Tillman were both part of the runner-up Sets & Lights and Graphics & Publicity teams. Before creating the sets, Mattie said that she and her sister read the play, took design notes and conceptualized aesthetic themes for different scenes.
"We wrote down different color schemes for each set," Mattie explained. "For Rome… creams, whites and grays, and for Egypt, blues and golds."
After research on the era of the play was conducted and the general aesthetic was defined, each member of their four-person team drew up initial set designs.
"Then we all combined our ideas together because a lot of them were very similar," Mattie added.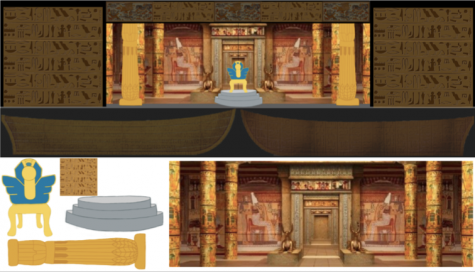 However, roadblocks mounted along the way. To create set pieces that could theoretically fit on Pali's Mercer Hall stage, the Tillman sisters and their team had to make everything to scale, which was a tall order, literally. Mattie said that the crew struggled to decide how to make a permanent set that was both efficient and versatile.
"We had to make [the backdrop] so it would fit on the Mercer stage," she said. "And you have to consider being able to fit things in the wings, and how much space you have." 
The solution? Reversible backdrops.
"In our design, the reversible walls were for Egypt and Rome… because in the written play, I think every other scene switches between Rome and Egypt," Emma explained. "And because the boat scene is very dramatic, we wanted a different background for that."
Though many set pieces were designed, the Tillman sisters had favorites.
"My favorite was the battle set," Mattie said. "If we were to do the show [in person, at Pali], there would be paintings of Egyptian hieroglyphics and Roman mosaics on the boats."
"I loved the Egypt set because Cleopatra is such a fun character, very sassy and royal," Emma said. "It was fun designing her set to portray those aspects of her personality… We tried to portray that stuff with lots of golds, jewels and crystals."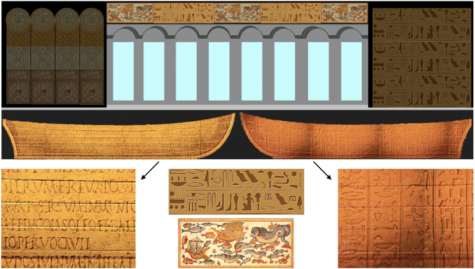 The Graphics & Publicity team followed a similar route to set design; reading the show, taking design notes, researching, then brainstorming themes. 
However, the end product was "poster design, marquee design, banner design and basically anything that for a normal show, you'd see around campus," Emma said. 
In the weeks leading up to the competition, the Tillmans and the rest of their team designed possible advertisements, planned hypothetical fundraisers, and even came up with ideas for what "Antony and Cleopatra" themed items could be sold at the concession stand on the play's opening night. Some of the Tillmans' personal favorites were "Cleopatra's confetti cakes," "Pompey's Popcorn" and "Triumvirate Tea." 
Ultimately, whether or not they took home any first place prizes, the Tillmans said they were glad to have the learning experience. 
"It was super exciting because Mattie and I had no idea whatsoever what to expect," Emma said. "All of the things we learned from this time, we can improve upon for the next years to come."