#OscarsSoWhite attempts to right a wrong
A simple telegram, sent in February of 1928, was used to notify actors, directors, producers, writers and technicians of their nominations for the first annual Academy Award. Three months later, in a private dinner hosted at the Hollywood Roosevelt Hotel, nominees Janet Gaynor and Emil Jannings were awarded Best Actress and Actor. Both Gaynor and Jennings were white. The other winners, including "Wings" awarded with Best Picture and "7th Heaven," featured all-white casts.
Undeniably, the number of non-white recipients of Oscar nominations has increased, but the diversification of Oscar nominees and winners has been slow. The first black winner of the Academy Award, Hattie McDaniel, accepted her Oscar in 1940 in a then-segregated hotel. And since then, only 14 black actors and actresses have won the coveted prize.  
Last year, the 88th Oscar nominations spurred outcry and accusations of a racist Academy when, for the second consecutive year, all 20 slots in the four acting categories were filled with white nominees. Mere days after the nominations were released, several prominent figures, including actress Jada Pinkett Smith and film director Spike Lee, took to social media to declare their boycott of the 2016 Oscar ceremony. Chris Rock, the host of the 2016 Academy Awards, used his platform to touch upon the controversy of #OscarsSoWhite.
Proponents of #OscarsSoWhite point to the fact that although a slew of films with black casts were released in 2015, not one of these movies, and not one of the actors featured in these movies, was nominated for an Oscar. Sylvester Stallone, one of the few white actors in the cast of the sports-drama film "Creed," was nominated for Best Supporting Actor, yet none of his black colleagues received the same recognition. Similarly, Jonathan Herman and Andrea Berloff, the white writers of "Straight Outta Compton," were the only members of the production team to be nominated. The Academy also failed to give the lauded "Beasts of No Nation" and its leading man Idris Elba — who won best supporting actor in the Screen Actors Guild Awards — a nomination.
Critics of the #OscarsSoWhite movement, on the other hand, point to the stiff competition, such as "The Revenant," "The Big Short" and "Bridge of Spies," that many of these all-black cast movies were up against. On the other hand, it is possible for ten movies to be nominated for Best Picture, yet only eight movies were nominated for last year's Academy Awards, "Beasts of No Nation" not being among them.
"Hollywood has a dark history of racism, and only recently have steps been taken to encourage minorities to join the film industry," said a student who wished to remain anonymous. "However, I don't believe that the awards are distributed with race in mind. That being said, I do firmly believe that the playing ground today is fair, if not tilted in favor of movies with diverse casts. After the media backlash from last year, Hollywood elite may feel inclined to vote for these movies."
Others believe that the apparent and unfair lack of diversity in Oscar nominations is due to its exclusive origin.  
"The Oscars were initially created when the film industry had very little diversity," senior Sarah Walton-Burrell said. "While race may have been considered in the selection of winners, the Oscars, for the most part was merely a hanging celebration of film among Hollywood elites, all of whom were white."    
In early 2017, however, just two years after the advent of #OscarsSoWhite, the nominations for the 89th Academy Awards seemed to dispel the claims that the Academy had been purposefully skipping over non-white art and artists.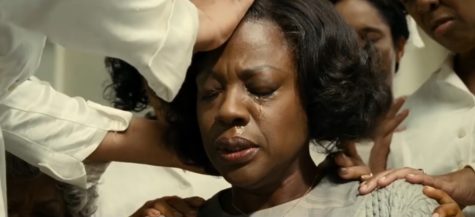 Among the nine movies nominated for Best Picture were "Moonlight," "Fences" and "Hidden Figures," three critically-acclaimed movies with all or predominantly black casts. "Moonlight" depicts the coming-of-age for a young, gay black man in Miami. "Fences" deals with black family life during the 1950s. And "Hidden Figures" showcases the roles of black women in NASA during a time of extreme racial strife. In addition to this, "Fences" actor Denzel Washington, "Fences" supporting actress Viola Davis, "Hidden Figures" actress Octavia Spencer, "Moonlight" supporting actress Naomie Harris, "Moonlight" supporting actor Mahershala Ali and "Loving" actress Ruth Negga all nabbed Oscar nominations on Jan. 24.    
This apparent increase in the diversity of movies nominated this year is credited by many to the change in membership qualifications in the Academy right after the controversial 2016 Oscar nominations were released. In January 2016, the Academy extended invitations to 683 members of the film industry, 41 percent of whom were minorities. This surprising increase in the amount of invitations extended — double from the previous year's 322 invitations — was implemented in an effort to double the number of minority voting members by 2020, according to the Academy's Board of Governors.
A 2016 Hollywood diversity report published by UCLA's Bunche Center for African American Studies found that over the course of the past several years, minorities have been losing ground among lead roles of major films, film directors and film writers. It seems to many that the Academy's change was long-overdue.  
April Reign, the creator of the #OscarsSoWhite hashtag, voiced her opinions on Twitter shortly after the nominations were released in January.
"This year's slate of Oscar nominees highlights that, when given the opportunity, films that reflect the diversity of this country will shine," Reign said. "Nevertheless, one year does not make up for over 80 years of underrepresentation of all genders, sexual orientations, races, abilities and First Nation status."
"
Nevertheless, one year does not make up for over 80 years of underrepresentation of all genders, sexual orientations, races, abilities and First Nation status.
— April Reign
"In order for there to be real change, screenwriters have to write movies that allow people of color to have a leading role in theater," Walton-Burrell said. "I hope that in attempting to represent more people of color, the level of prestige that is distinctive of Oscar-nominated films is not sacrificed."
Perhaps the 89th Academy Awards is evidence enough that a radical shift in the diversity of the film industry is indeed taking place. President of the Academy Cheryl Boone Isaacs acknowledged this discernable change in diversity in a speech during the ceremony.
The global film community, Isaacs said in her Oscars speech, is "one that is becoming more inclusive and diverse with each passing day. I am proud to be part of the evolution of this artform and to see all the new faces among this year's nominees."   
And on Feb. 26, the Oscar's outcome appeared to lend credibility to Isaac's words, arguably defying #OscarsSoWhite. Viola Davis, supporting actress in "Fences," and Mahershala Ali, supporting actor in "Moonlight," both left with Oscars. Critically acclaimed "Moonlight" took home Best Writing Adapted Screenplay and, after a small hiccup, Best Picture.
"Tonight," Isaacs announced triumphantly, "is proof that art has no borders."