Meow or Never!
Hang on for a minute...we're trying to find some more stories you might like.
For all of the felines lovers of Los Angeles, the new creation of cat cafes has opened up the opportunity to be up close and personal with your adorable kittens. For only a small service fee of $25, anyone can visit "Crumbs and Whiskers" on Melrose Avenue, while other non-local locations include New York, Washington D.C., Asia and Europe.
Beginning on Sept. 29, Kanchan Singh, the creator behind the masterpiece, established the first location in Washington D.C., yet continued on to expand to the Fairfax District. Once recognizing the increasing positive feedback of overjoyed customers, Singh chose to partner with the Karma Rescue project, an organization that helps create proper refuge, protection and safety for all admitted animals. "Crumbs and Whiskers" gives customers the chance to lounge and love on variety of felines, but at the beginning and end of each session, personnel explain the possibility of adoption, the main purpose of creating the Melrose location.
Reservations, minimally made a week in advance, are absolutely necessary in order to play and pounce with adorable kittens. Upon a recommended 15-minute early arrival, guests are given the chance to order from a nearby coffee shop menu, Open Space. The establishment allows guests to nibble and sip on their treats inside, rather than monitoring who goes in and out throughout the reservation.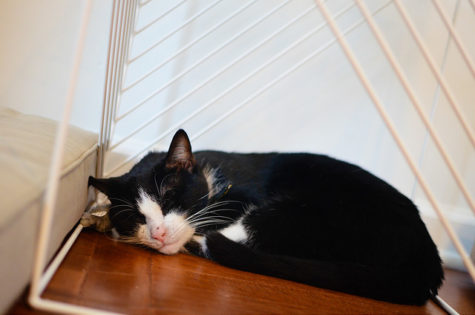 As the event time rolls around, a maximum of 12 guests are allowed into the facility for an allotted time of 75 minutes. Once inside, customers are welcome to frolick and frisk with the cats, yet a few guidelines are made abundantly clear. Guests of Crumbs and Whiskers are allowed to entertain the cats with toys and feed them catnip (an additional fee), yet waking the cats to play is strictly against the rules. To ensure the safety and comfortability, Crumbs and Whiskers has also  developed a system to label the cats through the colors of their collars: pink, grey and purple. While pink represents female and grey represents male, the purple collar is associated with "sassiness and attitude," meaning these specific cats might not be afraid to bite back if you're willing to play, or even pet, them. After all rules and announcements are made clear, guests are allowed to mingle with their furry friends, lounge on the sofas with their snacks or drinks and enjoy their time.